After much fuzz, I made it back home yesterday just after midnight. My return journey started when – with a firm belief that my train would leave half past 6 pm – I checked my ticket only to discover that it would in fact leave 20 minutes past 5. This gave me 40 minutes, which was only enough because I'd already had the foresight to pack everything. I hastily said goodbye to everybody and turned in my keys, then I walked down to the metro and went to the central station.
At T-Centralen, they were rebuilding. Boy were they ever. Fences and yellow tape and rubble and police everywhere. Not to mention people. TONS of people! So there I was, in an underground network of train terminals filled to the brim with busy Swedes being directed by the police through a sea of rubble. And I had no idea where my train was. I had arrived at T-Centralen at 5 pm and I spent 15 minutes futilely asking for the way to the right platform. Finally I found an information booth with a lady who spoke English, and she told me I was in the metro station, and I needed to go to the central station, which was back down to the nearby platform and then all the way to the other side. So then I ran. Once I was in the right station, I quickly located the correct platform, and then I made it on board half a minute before the train left.
I find it difficult to express to how great a degree the Stockholm metro system sucks.
The rest of the city is really cool though. I didn't really leave the office a lot except to obtain food, it was extremely cold outside and I didn't really have anywhere to go, but Friday morning I finally decided to pull myself together and take my camera for a little walk around town. Here are the pictures worthy of showing all you guys, displayed chronologically:
And here's a bonus picture: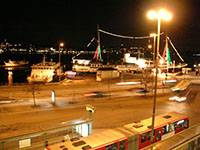 Pardon the blurryness, but I didn't bring the tripod for my camera, so I had to try and hold it still as best I could while it took the picture. I still kinda like it though.
Okay, and a SECOND bonus picture: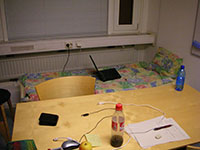 This is where I slept all of last week. To be honest, it wasn't actually so bad, the real problem was that I had to clear up the entire room for common office use every morning. That was a little annoying, to say it nicely.
Arr, I guess that's it then. But while I got your attention, might as well throw in another pointless cat picture. Ph33r.
Mheheheh, I love it when Tango looks evil.