Okay, so here we go: The inevitable blog entry about World of Warcraft. I bet if anybody is still reading this blog, you saw it coming when you read the last post. Well… I'm predictable, like everybody else.
I have two characters on two different servers now. Condon is a currently level 4 human mage on the Defias server, Skronck is a level 11 troll rogue on Moonglade, on the verge of obtaining his 12th level. As I gain more levels above 10 with Skronck, I start getting worried about my talent builds and the fact that I have no idea what I'm doing. Luckily, the WoW community site has a talent calculator to remedy this! And thus, I turn to the three of you who read my blog (not counting Torsten who got me into this blogging business in the first place, and on whom I force my links every time a new entry is created) to help me figure out the optimal builds to use for Skronck and Condon.
Please, if you do not know WoW, feel free to ignore this post in its entirety.
If you're an experienced WoW player, your help is much appreciated, here are the two possible builds I've put together for each character. Any type of criticism is accepted, even minor tweaks to make my character more useful.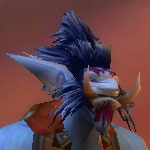 Skronck's combat build
Skronck's subtlety build

Condon's arcane build
Condon's fire build
I will add pictures of my characters to this post for flavour once the goddamn FTP servers come up again. For fuck's sake.