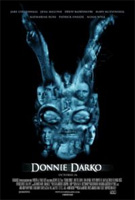 Wow. I just saw Donnie Darko
. What an amazing movie. Even my dad liked it, although I'm willing to bet he didn't get at least half the plot. I say this with some certainty because I'm not sure I got half the plot.
I'm usually not very big on film analysis, mostly I'm studying Film and Media for the Media part. Specifically, Computer Media (to which around 3% of our curriculum is dedicated – not bitter!), but this is one of those movies that could motivate me to pay more attention during our Fiction Theory and Analysis classes. It is also the kind of film that absolutely makes me realize how much the world needs film scholars, because otherwise, how the Hell will we ever come to understand what happened in this movie?
Fantastic film. Gotta buy it now.