I backdated this entry so it'll fit onto the site chronologically. It's mostly a reminder to myself so next year, I can search back through the archives and remember which presentations I saw in 2007. In a moment I'll go back to Ep. 1 and add my notes for Tuesday's lectures. I would like to note that I ended up going to Masaya Matsuura's talk on Tuesday rather than Aki Järvinen's. Järvinen's looked very fascinating, but Matsuura ended his by singing a duet with an Aibo robot dog! Can't top that. Afterwards, Jesper Juul turned around (he was sitting right next to us) and said to T. L. Taylor: "I heard you're going to do the same thing tomorrow." Riiiight…
I attended the following presentations Wednesday: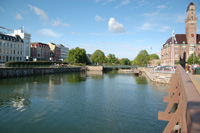 9:30 – 10:15
T. L. Taylor
Keynote entitled: From Box to World and Back Again: How People Transform the Games They Play
Summary: This talk will explore the ways players act as lively co-creators of the online games they play, shaping game culture in powerful ways.
My notes: Although MMOG's are not my favourite category of games, Taylor had a lot of interesting things to say about online game culture in general, and her presentation served perfectly as an intro to Sotamaa's:
10:30 – 11:15
Olli Sotamaa
Lecture entitled: Building on Player Creativity: Exploring Game Modifications and Modder Networks
Summary: The presentation examines the motivations and organization of mod makers. The benefits and downsides of modifications from the perspective of game developers are also discussed.
My notes: This talk was basically about me. There was nothing in here that I didn't already know, but it was sort of nice to have it structured and conveyed in an academic fashion.
11:30 – 12:15
Simon Niedenthal
Lecture entitled: Novem Corda: Understanding Communities of Creative Practice in Game Design
Summary: We have developed an interactive tool called Novem Corda, which supports our inquiries into how digital artists think about, and communicate qualities of simulated illumination in the game design process.
My notes: Niedenthal has conducted a cross-disciplinary study of light in games, and he had some really interesting things to say about that.
13:15 – 14:00
Hilmar Veigar Pétursson
Keynote entitled: The Tao of Virtual World Societies
Summary: CCP CEO Hilmar Veigar Pétursson looks to the East for inspiration in achieving a balance between the development team's vision and the community's desires.
My notes: This talk made me want to instantly pick up a subscription to EVE Online. Then I remembered the ludicrous death penalties and thought better of it.
14:15 – 15:00
Bart Simon
Lecture entitled: Against Immersion: Towards a Theory of Gaming as Interactive Performance
Summary: This paper against the utility of the concept of immersion for thinking about the idea of critical or reflexive gameplay.
My notes: Bart Simon is a very angry man. A very angry man.
15:15 – 16:00
Alessandro Canossa
Lecture entitled: Towards a Theory of the Player: Designing for Experience
Summary: After sketching a model describing the cognitive and physiological processes involved in the "player-avatar-game world" relationship, Alessandro intends to show how all player-types coexist within the implied player. Designers can increase the emotional and experiential impact of games by planning a "flow" path for each one of the player-types during the concept phase.
My notes: This stuff was directly applicable both in game analysis and in reducing the early iteration phase of a game development cycle. I gotta get my hands on his Ph.D.
16:15 – 17:00
Marek Walton
Lecture entitled: Beyond Storytelling: MMOs and the Role of Writers
Summary: MMOs require different skills from writers. Marek explores where the role's reduced, where it's increased, and where it's an evolution of their development function.
My notes: I want to work for The Mustard Corp.