Last weekend, the right shift key on my keyboard broke. This raised my awareness of two things: First of all, I use the right shift key a lot. I use both shift keys a lot, in fact. Within 10 minutes I had gone half crazy trying to rewire some neurons in my brain to use the left shift key instead, and I dug out an old b0rked keyboard from the cellar.
Secondly, it appears my keyboard demands have become somewhat crazy. I think it started with my previous, now broken, keyboard which was a silver/white electron-luminescent keyboard from Zitech. This keyboard was perfect. I was almost in love with it. When I tried to describe my feelings for that keyboard to Shane, he suggested I marry it, and the idea appealed to me. But alas, it was already broken by then, and I had to find a new keyboard. This turned out surprisingly hard. Here is my list of demands for a keyboard:
It must have laptop-style keys because this provides the perfect compromise between pressure sensitivity and responsiveness.
It must use a Danish layout with the æ, ø, and å keys.
It must have a seperate Ins/Home/Del console!
…and this console must be horizontal (2 rows, 3 columns).
It must not be black, because the dirt shows too well.
It must be USB because restarting my PC makes me impatient.
It must have a Windows key (but then, most do so this is easy).
It should have as few stupid "media" hotkeys as possible.
If it were possible to get a keyboard with a built-in SD-card reader, that too would be a must… but alas.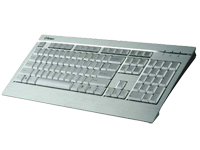 A keyboard that fulfills even the first two criteria is really difficult to find because almost all laptop-style keyboards also have a laptop-style layout where the Ins/Home/Del console and the keypad are in the same console as the alphanumericals, if there is a keypad at all. I hate that! I did manage to find a board that fulfilled all of these demands, excluding of course the last one. The aluminum Enermax Aurora keyboard pictured to the right. I'm already very happy with it, it feels almost exactly like my old Zitech board. And although it has no SD-card reader, it has two built-in USB slots, which is pretty damn handy. I just might marry this one instead, Shane.