Alright, I'm changing this post a bit because I don't want to make Smike mad (for real, that is) and I also think it has more value as a quaint little putting-the-obvious-into-words(-and-redundant-diagrams) than a failed jab at one of my 4 regular commenters.
Level design primarily has two purposes: Gameplay and aesthetics. Levels in games can either need to look pleasing or realistic – often both, but an equally important and somewhat more fundamental purpose is to make sure the game is fun to play. Depending on the game you're working on, there can be various different demands the levels need to fulfil. What I perceive as the most basic of these demands is whether or not the level should be linear or non-linear. In my opinion, either can work really well, it simply depends on the nature of your game. Games with linear level design sometimes appeal to different players than games with nonlinear level design, but in my case (and in many others' I'm sure) a linear game simply provides a different sort of experience.
I have created two simple diagrams to illustrate how significant the difference between linearity and nonlinearity in level design is. If you've ever spent any time actually thinking about this, I'm sure it'll seem extremely self-evident, but it was nice for me to put these concepts into words and illustrate them even though they're pretty easy to grasp. First of all, here is a level as it might appear in Half-Life – picture a set of corridors and rooms, perhaps a door leading into a courtyard with another building with a conveniently open door on the other side, and more corridors and rooms beyond: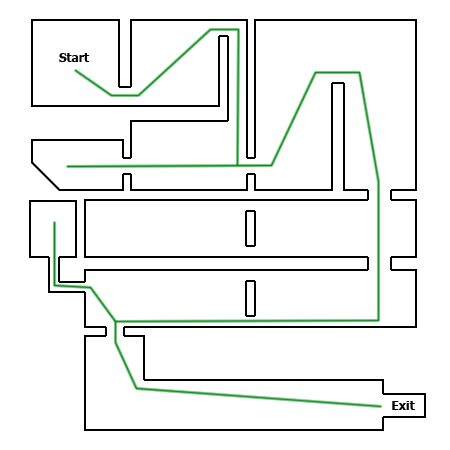 Note how the level channels directly from the entrance to the exit. There may be some optional rooms to explore along the way, but they will be dead ends, you will pretty much be forced to go in a specific direction through the level. If there is a branch in the road, it will invariably be blocked by a locked door or a pile of rubble.
Now regard this non-linear level as it might appear in Deus Ex – picture a part of a city, cordoned-off streets leading to a small plaza around a warehouse. The warehouse has an objective, it could be a generator that must be destroyed (my creativity knows no bounds!), and once you are done you may be extracted from the roof or you may simply be expected to go back the way you came. Also, there may be more than one way to enter this level in the first place, as pictured, and generally there will be several ways to enter the building or room with the objective):

This is clearly a non-linear level, but what's important to keep in mind is that the level can be linear or nonlinear independently of the narrative. Deus Ex is a great example of a game with nonlinear level design (what I like to refer to as micro-level nonlinearity) but a mostly linear plot (linearity on the macro-level). Here's a diagram showing selected parts of the plot in Deus Ex:
As you can see, the early plot in Deus Ex is actually fairly nonlinear, as you are given several choices that change people's perceptions of and reactions to you. You even get to choose when you kill specific characters. However, these plot-critical characters
must
be killed (and even if you manage to exploit what Harvey Smith calls "undesirable emergence" to avoid killing Anna Navarre, the game will still assume she's dead after a specific point), and no matter what you do in Deus Ex, you will always travel through the missions in the order intended by the developers. I don't mean to criticize this, since it has allowed for a pleasingly structured and satisfying narrative. I simply mean to point out the difference between micro- and macro-level linearity, which I think is very interesting.