Happy new year, guys. 2008, huh? Seems like it'll be nice so far. Quiet, as usual. I could totally go for a party right now, but everybody I know is either celebrating with their family (like me) or crunching on their non-fiction paper for the 2nd. For the record I finished it today and made both 22 pages and the 1000 page curriculum, and Mass Effect is frickin' great. Mass Effect is the primary reason I feel like partying right now, because it kept me up until 7 am this morning, so I slept until 1 pm and am at present nowhere near tired. But as Gelo said, at least I've got company over MSN. That sounds a lot sadder than it really is, btw.
Here's some fireworks from out of my window an hour ago, you're only getting it in 200×150 because I didn't use a tripod and I took 'em through the glass so they're both blurry and shaken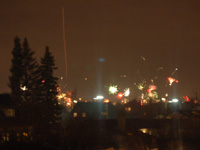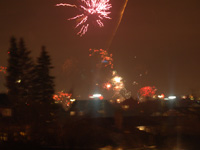 PS. Casper, my fellow game-obsessed media student and coworker until the 25th, finally got some actual content up on his blog, but he went and wrote it in Danish, so most of you won't get it. Ah well, maybe that'll teach him a lesson about not limiting his audience. It's a good post though, and it has a lot of Scarlett Johansson in it, which is always a plus. Added him to my blogroll too.