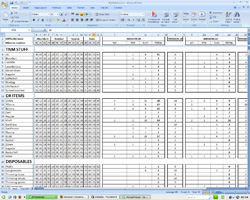 If you think game balance is only important for multiplayer games, you are wrong. It's true that balance can really make or break an MP game, and for that reason, a lot more time is often spent tweaking the way classes and weapons interact in a game such as Team Fortress 2 or Battlefield than is spent ensuring that the difficulty curve of a singleplayer game is nice and smooth on all settings.
But balancing a singleplayer game can be a pretty comprehensive project in and of itself. Seeing how TNM has been playable from start to finish for a couple of months, I reckoned it was about time to go over the amount of items in the game. Gelo complained a lot about a lack of equipment on his first playthrough, and initial datamining suggested that he was right.
I don't know how professional teams generally handle balance, I suspect it varies a lot from team to team, just like most other aspects of game development. I know role-playing games generally use databases to manage difficulty by spawning enemies and items relative to the player character's level at run-time, but even that must take a lot of tweaking to get a good difficulty curve throughout the game – I'm sure it helps if you're building your game on a system like Dungeons & Dragons which comes with challenge rating tables, but I imagine the task of keeping all the databases balanced is still enough to keep a content designer occupied for an entire development cycle.
In some games, I think item placement is centralized. My cursory experience with Oblivion's toolset seemed to indicate a central list of every character and item placed in the game, and I can definitely see that being useful for keeping track of everything. In a traditional linear shooter such as Half-Life 2, I reckon the designers probably handle ammo and item placement by intuition and then leave the tweaking to the QA department – I'm sure they keep careful track of which weapons are introduced to the player at what point in the game, though.
In TNM, we went about the task in a somewhat more anal-retentive way.
The first thing we did was to meet up on MSN and work out a list of how many items should be available to the player in each section of the game. Then Nick coded up a console command that gathers a list of every item on each difficulty setting in the current level and dumps it to a seperate log file. I went through each of our levels (we have 58 maps not counting the training mission or our cutscenes), dumping balance info from them as I went. I then organized these logs into a folder hierarchy and went about typing the data from them into an enormous balance sheet (pictured above in a low enough resolution that it won't spoil anything). We haven't quite finished this task yet, we're still working on the two biggest sections, but I've finished balancing the three smaller sections of the game so they match the lists we worked out. It's been a pretty monumental task, but I've found that forward planning makes it a lot easier.
One of the fun things about systematically balancing the game is that I get to see our plans for more detailed difficulty settings come true. With items set to "Normal", the game will hopefully have about as many items as Deus Ex, whereas it will be positively throwing items at you on "Abundant". In contrast to that, the "Sparse" and especially the "Rare" settings will force you to really conserve your ammo, scavenge every level for equipment, and really manage your item consumption well. As Nick puts it, you'll feel like the game is punishing you.
Having made it about half-way through this process, it's definitely not optimal. There must be a middle ground somewhere between placing items by intuition or being a complete nazi about it like we've been. Perhaps the best way is to establish general rules from the beginning of the project such as "Abundant should afford 50% more items than Normal, Sparse 50% less, and Rare 75% less than Normal" and then leave the rest to the QA team, or perhaps it's best to adopt the RPG method and spawn ammo and items depending on the chosen difficulty.
Either way, it'll be nice when we're done balancing the game, because this is a tedious and not very rewarding process. It'll be worth it though, and the best part is: We have a largely accurate list of item numbers in each mission when we're done – perfect material for a walkthrough