Playing Thief 3 last night, it slowly dawned on me that my primary attraction to the virtual worlds of video games is the exploration of mysterious spaces. That probably takes some explaining, so get comfortable because this will be a long one. It has pictures though!
Remember back in the days of Jazz Jackrabbit and Wolfenstein 3D when all games had Secrets™? Secrets could vary from doors that looked like part of the wall and invisible holes in the ground where you could fall through if you stood still to props that served as triggers for bookcases sliding aside to reveal hidden rooms. My experience with action and platform games back then, though, is that the former type of secret was much more common: Hidden areas completely unmotivated in the fiction of the game. Why have a section of wall that slides away when you nudge it?
Deus Ex was one of the first games to consistently motivate its secrets in the fiction. Liberty Island, the first level in the game, has a couple of secret stashes: Two crates floating in the water under the dock, a sunken barge with equipment in its storage compartment, two containers full of medical bots. These are secrets that make sense – the crates were in a cage ostensibly meant for cargo storage, the barge was the ship that brought the ambrosia to the island before the NSF sunk it and made away with the cargo, and the medical bots are in storage containers, ostensibly about to be shipped into the UNATCO HQ or off of the island.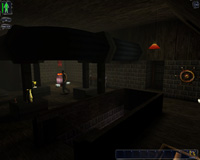 When you find a secret in Deus Ex, it doesn't feel like a secret the developers placed there for you to discover, it feels like somebody in the game placed it there, out of the way, and you just found it by virtue of your inquisitiveness. Rather than being external to the fictional world of the game, these secrets are part of it. They aren't really secrets, they're just out of the way – they're not expressly hidden from you, but you have to look around to find them. And since Deus Ex gives you skillpoints for exploration, there's always an extra little nod from the developers when you find these areas.
Mysterious spaces is something the developers of the Hitman series are very good at as well. Hidden areas fit the Hitman games so well: The first part of a mission is often spent casing the locations, finding out how the level is laid out and looking for good places from which to snipe, ambush, or cause an "accident" to your target. The New Orleans mission The Murder of Crows in Blood Money is an excellent example of this, having a main outdoors area full of civilians and then a series of courtyards and alleys from which you can enter apartments and bars.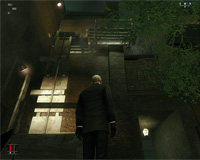 And Thief 3 is exactly the same, especially its city levels – you sneak around, trying to avoid the city watch, looking for shadows and niches you can hide in, all the while looking for the alluring glint of loot. In that way, it presses some of the same buttons as Wolfenstein 3D used to do: The nazi gold providing great motivation to find those hidden areas. But in Thief 3, the loot you find isn't simply padding for your high score, it can be sold to your fences for money you can then use to buy equipment for your next mission – the reward is internal to the fiction. It all stays in the story, see? And of course another brilliant aspect of Thief 3 is that once you have the whole city figured out, you get the wall-climbing gloves and whole new spaces open up to you.
What these games have in common is a medium-freeform approach to level design. We're not talking S.T.A.L.K.E.R. or Oblivion here, the game is divided into a linear string of confined levels, but each of these levels (each of the pearls on the string) is an open area within which you may move freely. Hidden areas are perfectly possible to include in more micro-linear levels such as in Half-Life or Call of Duty, but it doesn't give you (or rather: me) quite the same joy of discovery. And the funny thing is, because the levels are so open, the areas don't even really have to be hidden. It can just be an open window leading from the street into an apartment or a locked door you can pick to find a storage room with goodies.
If pressed to explain this thrill of intruding on the privacy of fictional characters, I can come up with a few reasons. First of all it plays to a curiosity that I think most of us have – an urge to look behind the building facades we see every day. In games we have the freedom to do that – to break into homes and take whatever we please without fear of repercussions or (less selfishly) without hurting anybody. This overlaps with the compelling nature of mystery and adventure – we tend to enjoy finding things we weren't meant to find or being in on secrets. Certain structures will feel more fascinating to explore than others: Breaking into a generic apartment and robbing the place is all well and good, but finding out that I can jump out the window on the second floor of a tavern and grab onto the balcony outside, which offers access to that apartment without having to sneak past the guard posted at the front door – that is the sort of thing that makes me smile broadly or perhaps even chuckle quietly to myself as I play.
So that's why I love these intricate, open levels, and it's why I tend to love the hub areas with safe zones more than I love the real missions where you're trespassing everywhere. I love constantly moving between public spaces and prohibited spaces, sneaking off the beaten path populated by friendly NPC's to explore the places where I'm not supposed to be. And fun as playing such games are, it's even more rewarding to build those levels.