Ever since I first played Deus Ex in 2000, I've been all for the inclusion of RPG features into other game genres. The feature that seems to have made it into most other games is the trademark open-endedness of the RPG genre, but dialogue trees, character customization, and experience points are other features that have gradually made it into especially the ever popular FPS games.
When I bought Rainbow Six: Vegas for PC, I was disappointed to learn that the X-Box 360 version had an experience point system that was cut from the PC port. Happily, this feature made it into the sequel, Vegas 2, which is the best reason for PC gamers to pick up the game that's otherwise just a glorified expansion pack with better graphics and AI.
Vegas 2′s XP system is split into two parts: Every time you kill an enemy, you gain general experience points which gradually promote you through the ranks from Private 2nd Class to Elite, unlocking new clothes, armour, and camouflage. Additionally, specific types of kills grant you specialized experience points in three categories: Marksman (kills at a distance, headshots, kills while you or your target is rapelling, etc.), Close Quarters Combat (kills at close range, kills by blindfiring, kills from behind, etc.), and the frustratingly difficult to acquire Assault (kills with explosives, kills through cover, etc.). These categories unlock relevant weapons (sniper rifles and assault rifles for Marksman, shotguns and SMG's for CQC, machine guns for Assault).
At a glance, this is a recipe for disaster. Not only do you have to earn the right for character customization, but this is – let's face it – an effort to introduce grinding into the FPS genre! The very worst, most despicably mindnumbing element of the MMOG category. Yet it works extraordinarily well! The greatest advantage in my opinion is that it lessens the blow of dying considerably – like its predecessor, Vegas 2 uses checkpoints and likes to kill you a lot, and on the harder difficulties you tend to spend a lot of time dying and playing the same sequences over and over. In Vegas 1, this gets old real fast, but because experience points carry over between deaths and saves, you don't feel like you're wasting your time just trying to get to the next checkpoint – even if you die 5 times trying to progress, at least you earn a lot of skillpoints.
I also like the extra rewards. Headshots are a lot more rewarding when you get marksman points for it, as are stealth kills and grenade kills. And whereas I never used any other camouflage than black or urban in Vegas 1, I find myself using all sorts of exotic camouflage in Vegas 2 simply because I've had to earn it now (and I must say the blue Russian camo looks surprisingly good).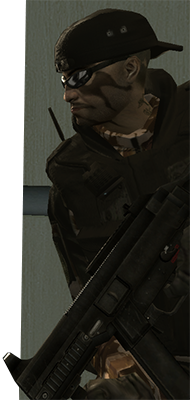 This positive experience with "grinding" in Vegas 2 has made me come to a realization. It isn't really the concept grinding itself that turns me off MMOG's, it's grinding in combination with dull game mechanics. I don't mind grinding in Vegas 2 because the game's basic gameplay is fun, challenging, and rewarding. You're not just killing endless hordes of terrorists, each level in the story mode has objectives and plot points, and in Terrorist Hunt (that I play with Nick), each map has a specific amount of enemies you have to kill to complete the mission. Grinding in eg. World of Warcraft, on the other hand, bores me to death because it's not all that fun to watch your avatar beat some monsters to death on some featureless plain somewhere.
So maybe what we need isn't an MMOG completely devoid of "Kill monster x and gather item y."-quests. Maybe what we need is an MMOG with core gameplay that's actually fun and rewarding in its own right. That just leaves the question: How do you make a game so fun that you would enjoy it even without XP and item drops but so easy that even your mum could play it? Because let's face it: WoW has gained 10 mio. subscribers because your mum really could play it, and odds are she'd be rubbish at Rainbow 6: Vegas 2.