It's a pity I never got around to writing a post-mortem of sorts over the Quest for Glory campaign that my good friend Ruben ran in Neverwinter Nights over a period of three years. I have a couple of half-finished drafts lying around in WordPress, but nothing I write seems to really do the campaign any justice. How do you summarize the multitude of feelings stemming from completing a roleplaying campaign that lasted 3½ whole years? Search me.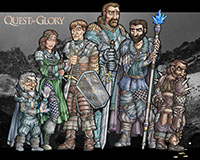 It's not a campaign that'll be forgotten anytime soon, though, that's for sure. Especially not now that we have a fantastic portrait of the group to treasure forever. After seeing how well Obsidian's drawing of Trestkon turned out, Ruben decided to commission the portrait, which depicts all six major characters in the campaign, only omitting the character Alarah, who left the group after the second session. The drawing is an homage to the campaign the likes of which I've repeatedly failed to create in writing.
I immediately whipped up a wallpaper with the artwork for Ruben. I'm not using it myself because it obfuscates my icons too much, but I'm still pretty happy with it. I just wish I could claim credit for the drawing – in truth not even the photo in the background is mine (we have no mountains in Denmark), and the logo, I nicked from the cover of the Quest for Glory 5 box. That doesn't make me any less happy with it, though. For a 1680×1050 version of it, and an attribution of which characters appear in the portrait, please visit my freshly updated Campaign Chronicles page, which also has a pictorial journal from the whole 3 years of the campaign in which I was fortunate enough to participate.
As for the title of today's post… well, how much more glory could you possibly need than this? Job well done, I say.