Having completed GTA4 last week, I was in need of a new distraction, and Homeworld – lying installed but utterly unplayed on my desk – seemed to require too much cerebral activity for my current needs. I've been following Shamus' episodic dissection of Flagship's Hellgate: London, and for some reason I was reminded of my intentions to purchase Titan Quest once the price dropped to something affordable.
Titan Quest was released in 2006 to mixed reviews. To call it a Diablo clone would be about as fair as calling The Witcher a Baldur's Gate clone or Call of Duty 4 a Quake clone, but TQ does fit snugly into what has been excellently called the "Third Person Looter" (TPL) genre. It's a top-down game that allows zooming but provides no camera rotation(!), and the gameplay, like most games of its kind, is extremely simple:
You move from town to town, slaying hordes and hordes of monsters in the wilderness in between by clicking on them at a carpal-tunnel-inducing pace.
Monsters provide XP and drop items when killed and occasionally huddle around chests with more items.
You pick up these items and take them to the nearest village where you sell the ones you don't need and keep the ones you do.
Occasionally there will be a boss monster that provides more XP and drops better items.
You can also collect shards of charms and relics that can be merged into completed charms or relics and used to upgrade your equipment.
Sometimes you'll find recipes that encourage you to gather particular charms and relics and pay to have them crafted into specially powerful artifacts.
In towns and sometimes in the wilderness you regularly encounter NPC's with golden exclamations above their heads which give you quests to solve for extra XP and equipment.
In other words, pure hack'n'slash. There are no dialogue options and the story seems to pretty much be Ye Olde Save The World rubbish, though at least the Ancient Greek Mythology setting is pretty interesting. It's not generally "my type of game", it's mindless killing and looting.
But it's pure catharsis.
It has the same pull as certain FPS games in that you can just switch off your brain and blast gloriously through armies of enemies, but being a TPL game, it substitutes raw twitch stimulation with obsessive-compulsive item collecting and min-maxing. Like the Diablo games before it, it's pure crack in game form. Usually that's not enough – this game would never make it onto my top 10, and in a year I'll probably have all but forgotten it, but right now it's exactly what I need.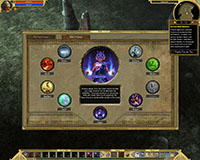 It also has a pretty good character system. When you create your character, you only choose a sex, a name, and the colour of your tunic (which can be changed later with purchaseable dyes), there are no real appearance options as far as I could see, and you don't choose a character class or anything like that. The first time you level up, you pick a skill mastery (read: character class) from 9 choices and start choosing skills from the tree it offers you.
That's a nice way to set it up, as you'll have played for 5-10 minutes before that, so you'll have a feel for the combat and a rough idea of whether you want to be a melee character, a ranged character, or a caster of some sort. A few levels later, you can pick a second mastery or just choose to focus on your first choice. Picking a second one will give you a new class name that represents your particular combination, for example I started out as a Hunter and picked Nature as my second mastery, which made me a Ranger. So far I'm concentrating largely on my Hunter mastery though, since I favour ranged combat over casting at the moment, and the only skill from the Nature tree I really want is the ability to summon wolves to follow me around and aid me in combat.
Equipment upgrades are slightly different from Diablo 2's socketed items in that they're available for every item by default, except Epic or Legendary items, but you can only use 1 upgrade for each weapon, and you can actually retrieve either the upgrade or the item if you change your mind later (and if you're okay with the astronomical cost of seperating them). I think I prefer Diablo 2′s system in that finding an item with 4 sockets was always a big thrill, but on the other hand TQ has more different types of upgrades, and collecting identical shards into complete charms or relics offers almost the same thrill as Diablo's set items.
The main gameplay-difference between TQ and the Diablo series, however, is that TQ has no randomly generated levels. Instead, it has a huge hand-crafted streaming world, which is constructed a bit like a very wide corridor that snakes through a convincingly Greek landscape. While you play, it seems more like a set of connected arenas, like a row of pearls on a string with the occasional optional pearl dangling off another, but since the game streams its world, you can actually look at your map and follow your progress from all the way back at the starting village.
The lack of a procedurally generated world is both the game's major weakness and its greatest strength over the Diablo games: Since it's hand-crafted, it's far more varied, interesting, and convincing than the often somewhat bland areas Diablo threw at you, but on the other hand it means there's far less replayability. Since I'm still on my first playthrough, I'm not sure whether the boss characters are randomly spawned, but I think they are, and that would add an element of replayability; but it's not quite the same as Diablo, where the world would be created anew each time you loaded up the game.
In conclusion, I think the mixed reviews are fair. It's a solid game with excellent and well polished core gameplay, but it doesn't offer much in the way of new ideas. As the PC Gamer UK review originally pointed out, even the nice character system seems pretty close to Guild Wars' dual-class system. I don't believe all games need to be extremely innovative, I believe there's room for games that pick a genre and strive to be the best they can within those conventions, but it's hard to give more than 80% to a game that has nothing new to offer the medium. PCG UK's 70% for the original game was a bit harsh, but then I am playing with the Immortal Throne expansion, since Steam pretty much gave it away for free, and PCG UK did give that 79%, which seems far more adequate.
At $25 including VAT, I feel I got my money's worth, and I really don't think Iron Lore deserved to go belly up. I just wish I knew somebody else who had this game, so I could try out the co-op.