I'll be the first to admit it: I love open world games. They cater to my powerful explorer gene. They facilitate the escapism that I so dearly need, they give me the freedom to get lost in a huge fictional world based on rules that are complex enough to entertain me for hours, yet simple enough to eventually understand and master. And thankfully they are extremely popular these days.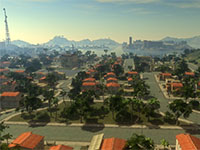 I've recently spent upwards of 70 hours playing GTA4. I've just been sucked back into World of Warcraft. Not long ago, I was riding around in Oblivion's Cyrodiil, creeping frightened and unnerved through STALKER's Chernobyl, jumping from sun to sun in Dark Star One's damn near infinite universe, and sailing the Carribbean seas in Pirates! And before that, I spent hours upon hours dodging Boiling Point's bugs for the chance to drive through the massive jungles of their fictional South American banana republic.
In short, I really love open world games. I love them most when they are shooters or RPG's, when there is a story to experience. And the rest of 2008 and 2009 will be a good time for me. A really good time indeed. Here's a quick list of the games I anticipate the most:
Far Cry 2

One of the ideas I was most fond about for OTP's next game after TNM was an open-world top-down helicopter action game set in Africa. Africa is an excellent and incomprehensibly underused setting for a game. It's so huge and spans so many climates that it has cities, deserts, jungles, and savannah, and yet most non-Africans usually don't distinguish much between the many parts of Africa. We hear "Africa", and we think of all these environments. That's a perfect opportunity to put together a fictional African setting that embodies all of this fantastic variation.
And that's exactly what Far Cry 2 will do, as it lets us loose in a 50 km² portion of Africa with several playable characters, many different weapons and vehicles, and objectives that are built around the idea of goals rather than methods – you need to do something, but you will choose your own approach. Frankly, I can't wait. In fact I'm probably going to have to upgrade my video card and my CPU for this game.
Mercenaries 2
I must admit I didn't have very high thoughts of this game. It sounded like a pretty braindead 'splodefest until I saw this video at Rock, Paper, Shotgun. Now I'm psyched. The story will probably be complete pants, but the gameplay looks ace. Though I gotta say… I'm not sure that's quite my definition of "covert"
White Gold

So… Boiling Point was crap. No, I mean… it had potential, don't get me wrong. But it was crap. It was a collection of great ideas held together by wishful thinking. Its world was repetitive (made out of copy/pasted tiles), its missions varied immensely from the exciting to the boring, and pretty much every piece of its code was broken. I saw the potential at once, and so I kept playing, but even after the bigass 2.0 patch, the game didn't play quite the way it should. White Gold is its sequel, and I'm holding my breath for its release.
Apparently BP was made by a team of 13 people (which is probably the definition of insane), and now they have 30 people working on the foundations of an existing game, so there's a good chance they can finally do their own ideas justice. I certainly hope so, because if it works this time, it will be grand. They're even throwing in a proper RPG system! Grand.
Red Faction: Guerilla

Red Faction was a solid shooter, Red Faction 2 was apparently rather bland, but Red Faction: Guerilla will be an open-world game that pitches you as a resistance fighter trying to liberate Mars from the chokehold of the Earth forces that were your allies in the original game. Their main attraction (fully destructible terrain) isn't really what appeals to me the most, since Mercenaries 2 and Far Cry 2 boast the same feature, and honestly… I'm kinda over it. From what little I've seen of it so far, though, it just looks fantastically good.
My big problem with the shooter genre used to be that FPS games were always so linear – always set in cramped corridors or expansive outdoor areas that somehow still managed to act like corridors, it was about time more designers took a hint from games like System Shock 2 and Deus Ex. It was about time we started seeing these awe-inspiring open worlds with freedom to complete the objectives your way. I approve.