In cooperation with World of Warcraft, Narcissism Incorporated is proud to bring you another entry in our "Obsessed with fictional worlds" series.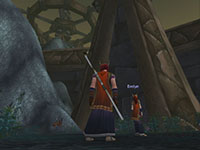 I had a somewhat stirring yet peculiar experience yesterday. After wrapping up our business in the Ghostlands at level 18, Nick and I bid the native lands of the Blood Elves farewell and travelled via Undercity to Orgrimmar, with the intention of going through the Barrens to the Stonetalon Mountains where our adventures would continue.
Passing through the ruins of Lordaeron over Undercity again after a 2 year absense, I was struck by a sense of familiarity that made me note the circumstances of my return to WoW until that point: Though I was back, I had chosen to return to Azeroth in a zone that I had not previously visited (since the Blood Elves' homelands were introduced in the Burning Crusade, and I stopped playing before it was released). Though it was the game I played 2 years ago, it wasn't a familiar environment.
The zeppelin soared lazily in to dock at Orgrimmar, and the striking Monument Valley-like environment of Durotar filled me with nostalgia. I tried to describe the feeling to Nick, but it came out sounding stupid and phoney – I couldn't think of any other way to say it than that it felt like coming home.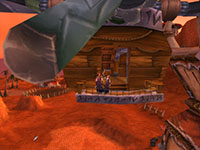 Of the cities I've visited in World of Warcraft, Orgrimmar is my favourite. Its size is perfect, large enough to accomodate many players without spreading them too thin. It's layout has decent verticality without being as confusingly complicated as Undercity or as awkwardly fragmented as Thunder Bluff. Aesthetically, it's much farther from traditional fantasy than Stormwind or Silvermoon, while still being low key and familiar enough to feel at home in, and the warm colour palette feels quite welcoming and pleasant.
It's a nice city full of people, but considering how much anguish WoW caused me the last time I played it, I'm quite surprised that I was so happy to return to my old starting area. I stand by it though: Durotar and the Barrens are interesting fantasy settings, quite unlike Ye Olde European-ish meadows, forests, and mountains.
And now Nick and I will journey through this middle American inspired landscape in search of adventure. All we need is a pair of motorcycles, and we have ourselves a good oldfashioned road movie.