I knew before I even got there that it was going to be a busy weekend. In preparation for our 2½ day recording session, Jeremiah's colleague Friedrich had turned our exported Trestkon script into a tidy database to be read by VoxGrinder, T-Recs Studios' proprietary batch recording tool, and the script counted just over 6300 lines, slightly more than half of which could be expected to belong to Trestkon.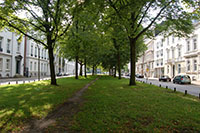 Trestkon, our player character, has about 34,500 words of dialogue, which at a business standard of 10 words per "line" is 3450 lines to record, otherwise known as a ludicrous amount of work. Our saving grace was that about 5-600 lines were duplicates, and only needed to be recorded once and then saved to different folders, so we "only" had to record a bit under 3000 lines. Even so, there were still serious doubts about whether we'd be able to record them all from Friday night to Sunday afternoon.
The train ride from Copenhagen to Hamburg took about 5 hours including 45 minutes by ferry. The Rødby-Puttgarten ferry is quite a circus. They drive the whole train onto the ferry along with whatever cars and trucks need to pass the belt, but due to safety precautions, you're not allowed to remain on the lower decks. Instead you're made to stay in what can best be described as a floating mall – apparently there are people who take the ferry just for the tax-free shopping. It was still an enjoyable little trip, however, as the last time I went anywhere by boat was, as far as I remember, in Greece many many years ago.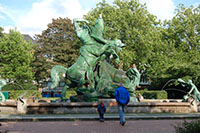 When I arrived in Hamburg Hbf. around 4 pm, I was quite dismayed to find that the only way to get subway tickets was from the vending machines, and the many charts and signs plastered on and around these machines completely failed to explain anything in English. Now, I did study German for 5 years, but while this has equipped me to understand German if spoken slowly and with no weird accent, it does not suffice to help me figure out what train would take me to Altona and how to get a bloody ticket.
Somewhat desperate and already running late, I turned to the woman behind me and asked if she spoke English. She tentatively replied in the affirmative and I asked how I would go about getting a ticket to Altona. Then she asked, in clear and native Danish, if I was from Denmark. Slightly taken aback, I confirmed – also in Danish – that yes, I was, and communication suddenly became quite a lot easier.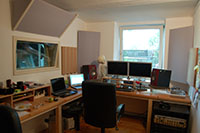 Jeremiah picked me up at Altona station and took me to his studio, no more than 5 minutes away on foot. I wasn't sure quite what to expect, but it turned out to really be a professional recording studio, complete with a waiting room and a thoroughly soundproofed recording booth. After dinner, we recorded the last lines for Scara. It's a big shame I didn't get a photo of Jeremiah's Scara-face, because it looked so hilarious I couldn't help but laugh. With Scara out of the way, we settled really quickly on a voice for Trestkon, which was pretty close to Jer's normal speaking voice so as to make things easier on him. We sent a sample to Lawrence and Nick, and with their approval, we got to work.
Audio clip: Adobe Flash Player (version 9 or above) is required to play this audio clip. Download the latest version here. You also need to have JavaScript enabled in your browser.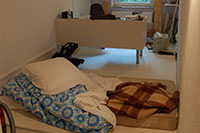 The weekend passed shockingly quickly. It's almost a lie to say I've been to Hamburg, because I only ever left the studio to have dinner, although Jeremiah did take me for a quick walk before the return trip on Sunday (which is incidentally when all of these pictures were taken). Saturday was particularly hard core as I got up at 10, we started recording around 11, and we stopped at 11 pm, so 12 hours of solid recording, only interrupted by lunch, dinner, and the occasional Call of Duty 4 break. When we finally hit our stride Saturday evening, we were recording about 100 lines per hour.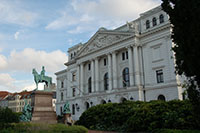 Unfortunately our concerns about the time turned out to be quite warrented as we still had about 5-600 lines left when we stopped recording Sunday afternoon. I'm pretty happy with how much we got done though, we must've recorded almost 2500 lines of dialogue, which is completely crazy. I was exhausted when we were done, and I wasn't even the one doing the acting and having to stay in-character the whole time.
Jeremiah's hospitality really overwhelmed me. I slept in a room that's being turned into a second studio, and I was given a key and everything. He even brought breakfast on Saturday morning.
Although this definitely wasn't a vacation, but rather hard work, I enjoy these semi-business-related trips out of the country. Visiting another country is a completely different experience when you have something specific to do there rather than just being a tourist. I would have liked to see a bit more of Hamburg though, so if I have to go back at some point, I'll schedule a whole week so I'll have a few days off to just go exploring.