As I mentioned in my last post, Gelo gifted me Blazing Angels 2 via Steam for christmas. I was immensely moved and compelled to reciprocate, which I did in the form of Depths of Peril. There's little doubt that Gelo's choice of gift was motivated by my recent fondness for flight and space combat games and my purchase of a delicious Saitek X52 HOTAS setup.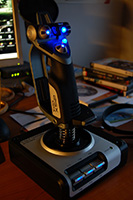 Unfortunately, upon loading the game, it immediately became clear that Blazing Angels 2 was not about to acknowledge the existence of my joystick just like that. In the game's control settings, a seperate column does indeed figure for setting up a joystick, but every function is unbound by default, and clicking buttons or moving along axes on my joystick does absolutely zilch – I just get a message after a while that it failed to set the function, presumably because it has no idea I was providing any input at all.
In fact it seems BA2 has quite a few issues with joysticks in general. Observe these discussions on that very topic at Ubisoft's own forums for the game:
Unable to install patches for BA2 Secret…, and joystick won't work
Blazing Angela wont run or update or joystick!
joystick problems blazing angels 2
But wait, help is at hand in the form of Ubisoft's tech support site!
How Do I Configure My Joystick?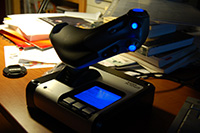 Oh wait… no it isn't. I have to use a seperate setup program that the game has put in my start menu, except… I got the game through Steam. There is nothing in the start menu, and a thorough search of the game's folder in the Steam directory reveals bugger all.
So this is… a flight game with broken joystick support? Great job, Ubisoft. Great job.
[UPDATE February 18] I realized the support site I'm linking to above is for Blazing Angels 1 – Ubi's support has nothing on joystick problems in BA2. In the end, I solved the problem by uninstalling from Steam and downloading an .iso via Bit Torrent – this allowed me to actually patch the game (for some reason it was unpatched on Steam), which made it recognize my joystick input.
It's not a very well suited game for playing with a joystick. Even in simulator mode, it seems intent on levelling the plane automatically, so to execute a long turn, you have to keep the joystick twisted in a really uncomfortable position to apply both roll and yaw while pitching up – it's shit on the wrist, in short. Furthermore, some of its timed objectives are definitely timed for the arcade mode – it's way slower to maneuver in simulation mode, so some of these time limits get fairly ridiculous.
I notice this post still gets a lot of hits from Google searches, so here's a piece of advice: If you're looking for an action flight game that's playable with a joystick, hold out for the HAWX PC demo – from what I've played of the 360 demo, it seems like it's a lot more suited for joystick than BA2. I'll post a little review of that when I've tested the demo with my X52.
If you've already bought Blazing Angels 2 and you're trying to get it to work with your joystick, get a hold of the retail copy and patch it. That should do the trick. Good luck!
[UPDATE April 8] Here's my characteristically subjective and informal review of the PC version of HAWX as played with my X52 setup.