I am rarely cool in games. When I'm surprised, my aim goes haywire and I end up firing into the ceiling. When under too much pressure, I panic and I die. But today I was cool – insanely cool, and I think that merits a post. Plus I haven't written about Left 4 Dead yet, in spite of loving it, and this is a good opportunity.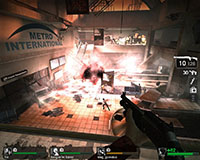 We're playing on Expert, and we're at the cliff house in Blood Harvest – the one with the lawn mower, you know. All four of us are still alive, but we're all doing quite poorly and we're all out of ammo, relying on our pistols now. The safe house is close, in the train cart just across the bridge. Tor and I went ahead, desperate for the respite of the safe house – desperate enough to leave Mads and Magnus behind if we had to.
Back in the house, Mads and Magnus are in a spot of trouble. Mads was recently liberated from a closet, and now he's stuck on a door, under attack from an unexpected zombie horde. We hear him shouting for help, but he's down and losing health. He dies ungloriously, messily, buried in a snarling, frothing group of infected. Magnus is moving from room to room, fighting off the horde and looking for the exit. He knocks out a window and jumps out desperate for excape.
We stare incredulously as he falls directly into the abyss to his death 50 or so feet below us. Desperate can mean Dead in the zombie apocalypse.
"Just the two of us left now." Tor's character says, automatically. Tor and I are both wounded, and we're moving slowly, but Tor reaches the train car far ahead of me. I can see zombies moving around in the mist behind us, and I'm fairly certain they'll come this way. I'm not gonna make it to the train cart. I have to make it to the train cart. I prepare a molotov – it's a tough call: It would be really useful in the final stretch of the campaign, but I have to survive this or it's gone anyway.
Yes, those zombies are definitely coming this way. I toss the molotov, painting a broad wall of fire across the bridge – the common infected perish, but I hear a hunter. I'm not sure if it can make it through the fire, so I reload my pistols and shoot at anything that moves within the flames as I continue crawling backwards towards the cart.
Just as I see the hunter emerging from the flames, Tor starts screaming over the voice chat. I turn around to find him caught by a smoker, dangling from the train cart by its slimy tongue. I empty my guns at the smoker, killing it, and Tor falls to the ground incapacitated. I turn around to face the fire, and the flaming hunter emerges on all fours, crawling towards me with a purpose unwavering even in the face of the searing fire. I shoot. Crawling backwards, low to the ground, smoldering cigarette between my clenched teeth, I shoot until my clip is empty and the hunter falls dead a few feet from me – easily within pouncing distance.
I turn around and help Tor get back on his feet. We limp into the train cart and close the door. Now for the really hard part…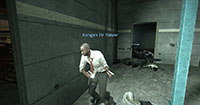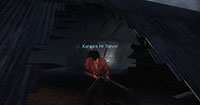 I got most of that from Mads after the game. I was too busy struggling to keep a level head despite the steadily escalating peril. I have it on his authority that the sequence I described above looked amazing. Of course it doesn't reflect the final outcome of the game – that Mads and I perished in the final onslaught, each a victim of one of the two tanks attacking the farm during the wait for extraction by the military. It took us 4 attempts to complete the final level – a number the others assured me is quite modest compared to how many times they had to play No Mercy to survive on Expert.
Left 4 Dead is a great game. I guess that summarizes it.
It's a game that manages an extraordinary amount of largely unscripted emergent Cool Events. Playing on Expert is frustrating, but also fantastic, and my Danish group know what they're doing – we're careful, tactical, and sensible. We manage some really sound strategies on occasion, and it speaks to the longevity and intelligence of this game that such simple gameplay can foster such inventive strategies. It must be the only game where carrying a gas can through an entire level is a sound tactical decision.