Or: Virdingholm Feud Progress Update 3
Or: How I learned to stop worrying and love academia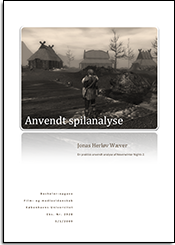 Well, love is saying a bit much, but I certainly have little to complain about right now. On Monday, my BA project was graded, and I was told that it had been given a C.
For the benefit of any non-currently-under-education-Danes among my readership, the scale starts at -3 and makes 6 odd and irregular jumps to 12, where it ends. In other words, I aced it. A+ on your weird* American scale.
* Yes, this is the pot calling the kettle black.
I was told the paper itself was more like 10 (a straight A), but the module was sufficiently impressive considering the time frame and the fact that I have never been taught about game development. I took a big chance on this project, choosing to trust that my advisor and his censor would both acknowledge how much work goes into game development and understand the project enough to rate it fairly, not to mention the fact that nobody has ever turned in a game project at my institute before. I'm incredibly relieved that it paid off.
Still not ready to release the module though. I'm not happy with its quality, possibly because I'm comparing it to The Nameless Mod, next to which any other project looks like complete and utter rubbish. I have, however, uploaded a 360 MB video walkthrough of the module if anybody's curious to see what they consider a project with a "high level of command of all aspects" and "no or only a few minor weaknesses" at Copenhagen University.
Of course you can also grab the paper, Anvendt Spilanalyse (Applied Game Analysis). The only part of it I wrote in English is, unfortunately, the abstract on the second page. The rest is Danish and as incomprehensible to most of you as all my previous papers have been, so sorry about that.
Finally, here is – for no apparent reason – the PDF readme for the module (also in Danish), which I included on the DVD along with the module itself and the video walkthrough.
Enjoy.