I didn't mean for this to happen.
I needed money, that's all. I had blown my entire fortune on the construction of a new mill in my fief, to increase the prosperity of the village and (as a nice bonus) its profitability to me in the form of taxes. Suddenly I found myself in the city of Werchek with a meagre 170 denars to my name and a force of 50 men to pay 350 denars at the end of the week. I had to get money, and I had to get it fast.
So I went to the nearest enemy village and started pillaging. Werchek is right near the border to the Vaegir lands, so it wasn't far. The last time I did this, I gained 3000 denars in a couple of days of looting, and I met no resistance. But this time, a band of sea raiders showed up and rallied the villagers against me. I found myself in command of 50 well armed men faced with 65 very angry villagers and 23 sea raiders.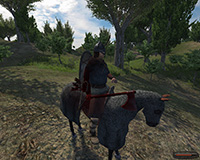 I placed my men on the highest point in the village and charged into the enemy ranks on my heavy warhorse. It was a massacre. In the end, even the women of the village attacked and fell at the end of my lance. I had slaughtered an entire village, but… it wasn't my fault. It was those damn sea raiders.
I marched back to Werchek to sell all the loot my force could carry for an impressive 4000 denars. On the way, one of my lieutenants, Ysmira, stopped me to confront me with her dissatisfaction with the recent blood bath. I told her I had noted her objection, now fall back in line. I am not a good person.
Mount & Blade succeeded in making me feel like a right bastard, which is quite a feat for a game with basically no story. There is nothing in there resembling a plot. There is a narrative, sure, but it's all up to you. What Mount & Blade does well is supply a wide range of features with which to form your own narrative: Warring nations ruled by rivalling lords, an economy that can be exploited to profitable ends, dynamically constructed tasks to gain or lose favour with villages or lords, exiled contenders for the thrones currently possessed by others, wronged ladies whose cause you may champion by duelling offending lords, villages you may gain lordship over, heroes you may recruit to your party, and armies you can raise and train from useless recruits to powerful veterans.
There's almost enough of this to make for a compelling narrative. Unfortunately moments such as my brief confrontation with Ysmira are too rare and too brief. There was no long and detailed argument with her about the necessity or unavoidability of killing innocents in times of war, she simply informed me that she did not approve. The next time I raided a village, she had finally had enough and told me she could no longer face the harsh realities of war; then she left.
I want more of this. I want more frequent and more detailed reactions to my decisions. I want my heroes to develop an actual relationship to me, I want them to have opinions of me and I want to be able to influence those opinions. If only TaleWorlds had gone into as much detail with their emergently narrative elements as they did with the management and battle parts of the game, this would have been game of the year material.
Because the game is very detailed, but in other ways. Obsessive detail has been put into the management and battle systems of the game. Your actions, your abilities, and your force composition influence the morale of your army which gives you an advantage or detriment in battle. Troops may be wounded in battle rather than killed and will take some time to recover. Shields will deteriorate each time they are destroyed in a fight until they become entirely useless. Horses come in many varieties and may have special qualities such as "heavy" or "spirited" which make them better than their normal counterparts, but if incapacitated in a fight, they may become lame. Lame horses are slow and difficult to control, but can in time be trained back to their normal state, though special horses will become regular.
Mount & Blade is a big and epic game. It's also extremely open. It's not trying to be a great adventure like Lord of the Rings, instead it strives to be a simulation of being an adventurer, a rebel, or a lord in a land much like northern Europe ca. 1100-1300. Its greatest asset is its titular mounted combat, at which it excels like no other game I've ever played – though admittedly I believe the only other game I've played featuring mounted combat was Two Worlds, which was quite abysmal in most ways. Ramming your armoured warhorse through an enemy formation and spearing a knight on your lance is really quite a lot of fun, and though it's a detailed and nuanced system, you quickly get the hang of it.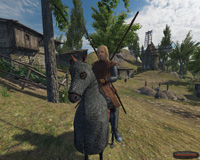 The game looks reasonably good too, though it's obviously not Oblivion or anything like that. In DirectX 9 mode with everything set to max, it runs like a peach on my (less than cutting edge) machine and looks quite nice with dynamic lighting, ragdoll physics, and pretty solid character animations. Its world design is good too, with villages looking often quite picturesque and landscapes appearing detailed and natural. The environments in the game are also somewhat varied, from lush forests to frozen mountains, though the frequent reuse of battlefields can get pretty repetitive.
Finally, the game gets extra plus points from me for featuring a viking-like faction called The Nords. What they lack in cavalry, they make up for in infantry, and I have dedicated my first campaign to helping them conquer the Russian-styled lands of the Vaegir – and hopefully getting lordship of a castle or two in the process.