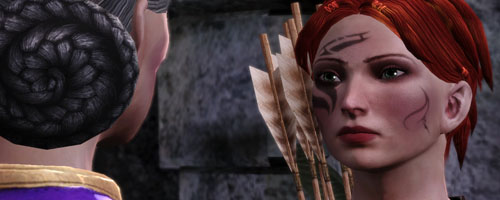 I can't believe how good Dragon Age is.
This post is going to gush a lot. You may want to take it all with a grain of salt because I'm quite the fan of BioWare, and I have a high tolerance for some of the flaws their games tend to have, especially the way they stick so close to the same plot template that you can rightfully accuse them of remaking the same game over and over again. Then again, that goes for Besthesda or id Software or lots of other studios, and I just happen to enjoy BioWare's template much more than others.
It's also going to have SPOILERS.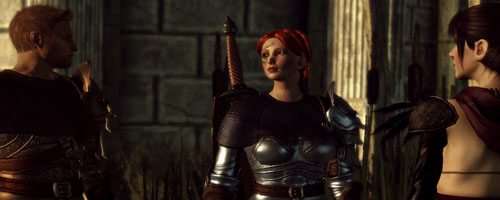 When I say that I can't believe how good Dragon Age is, I'm being quite serious. Having talked to friends who have also completed the game, it seems like it branches and bends roughly as much as The Nameless Mod, and to be able to say that about a 60-hour blockbuster game is frankly insane. Sure, Dragon Age doesn't have 2 different, parallel storylines, but its plot structure is much more open thanks to the way its world map works. And unlike other open world games, it seems to often make a slight difference in which order you visit each area.
More importantly, every major plot thread in the game ends with an honest-to-god dilemma, only some of which are spoiled by either having an unquestionably optimal solution or fall into an obviously good/evil choice. Your choices at these points will not only change the denouement at the end of the game, they will usually crop up once or twice throughout the rest of the game.
Though it's not the reason this game made such a great impression on me, I feel like I should mention that Dragon Age has surprisingly solid combat and character systems for a BioWare game. They've finally left the d20 systems behind and implemented a character system better suited for a computer game, where each level-up brings a tangible upgrade to your character. They're back to a party-based structure with 4 characters, and they've balanced the game to require substantial micro-management during fights on the Normal difficulty setting and above. It was while I worked on the Neverwinter Nights 2 module for my BA project that I realised I found NWN2′s combat really engaging if I turned up the difficulty, since it forces you to plan ahead and make constant decisions rather than lean back and watch your characters repeatedly whack the enemy over the head.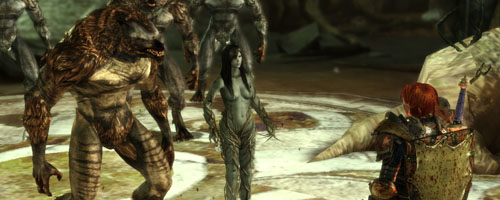 I created a warrior despite fearing that the warrior class in Dragon Age would be dull to play, as is the case with most RPGs, but the game's character system ensured that I would have as many if not as varied options for character development as a mage. Dragon Age takes more than a few hints from innovations made in MMOGs and uses a much more explicit aggro system than BioWare's previous games, which means warriors get several abilities to manage their aggro. It does take a while to realise it doesn't help to put your fighters up front and your mages in the back, since enemies can run right past your warriors to get the spell casters, even if you try to block a doorway. Once you get used to it though, it allows you to set up some pretty detailed tactics.
Anyway, enough about the combat. What blows me away about Dragon Age is its characters and its plot. Going into it, it all seems pretty clichéd and typical at first; it's not so much dark fantasy as "Tolkien plus a pathological fascination with blood". The thing that redeems it is how elaborate the setting is and how well written and acted the central characters are. Most shockingly, the main romance interest for female player characters is genuinely good! Far from BioWare's usual Boring Man Troubled By Dark Past, Alistair is snarky, charming, interesting, and quite simply a nice guy. As an added bonus, he plays an integral part in the main plot, and his romance ends with a great unexpected twist that really knocked the air out of me. I also tried out one of the female romance options, Leliana, and once I realised that her voice acting was weird because she was supposed to have a French-ish accent in-game, I found that to be a very sweet and well executed story arc as well.
This time around, the party interaction is based on an Approval system similar to the Influence feature Obsidian introduced in Knights of the Old Republic 2 and NWN2. There is no universal good/evil scale this time, which has brought massive improvements to the underlying themes of the game, since all your choices no longer need to fit neatly into Dungeon & Dragons' Good/Evil/Lawful/Chaotic scheme or KOTOR's light/dark side. Your actions are judged by the characters you bring with you rather than the game itself, and this usually works really well. On a couple of occasions, I've failed to quite grasp the underlying meaning of a dialogue option and been unfairly punished by a huge approval hit, such as when I asked goth-witch Morrigan why she was still with me – I didn't mean it that way, damnit.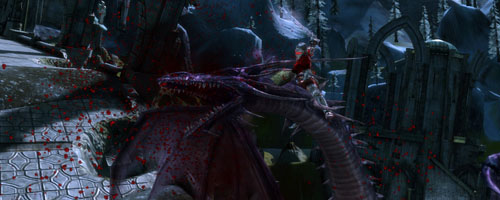 Towards the end of the game, when the results of all your previous choices start coming together, when characters begin to leave you or betray you if their approval rating is too low, when you finally manage to tie up the plot threads left hanging from your origin story, and when it all culminates in the best set of multiple endings since Invisible War (even Mask of the Betrayer was ruined by the hidden Happily Ever After ending – Dragon Age has no such thing), BioWare repeatedly pulled the carpet out from under my feet, and what had initially seemed like such an unbelievably predictable story now unfailingly kept me up until 4 am on work days.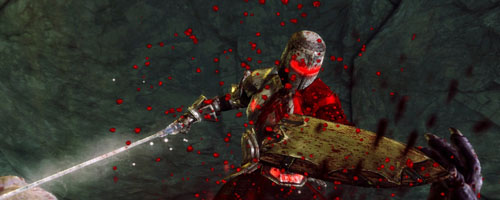 When I was finally done after 64 hours and 30 minutes of play, I had to talk to everybody on my contact list who had already completed it, and that was when a vague inferiority complex began to creep in. Christ on a bike Dragon Age has a lot of content, especially towards the end. Frankly, I fear that it puts TNM completely to shame. I'll pick out a couple of examples.
I had 4 armies with me at the huge battle at the end – Redcliffe soldiers, dwarves, elves, and mages – and the fifth slot in the army command interface was blank; so there are a total of 5 armies you can get, right? Wrong. Depending on your previous choices, you may get werewolves instead of elves and templars instead of mages. The fifth army slot is for the golems, if you resolve the Orzammar situation differently than I did.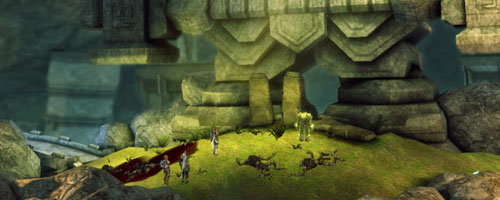 As far as I've heard, almost every character in your party has a plot-related reason to leave you if you make certain choices. One of my party members betrayed me and tried to kill me even though my approval rating with him was in the 30′s – he didn't even wait until the climactic battle at the end of the game as I'd expected, he turned on me in a world map encounter while I was travelling between areas! Another party member, I never even picked up – I left him to die in the beginning of the game and never heard from him again. Just before the end of the game, and this was a jaw-dropper for me, you can recruit one of the main antagonists of the story into your party after defeating him, though it will cause one of your first companions to leave you in disgust. Your former nemesis then appears in your camp and has dialogue there and everything! I didn't even get this option because I chose to let Alistair duel him, and when the duel was won, Alistair beheaded him automatically.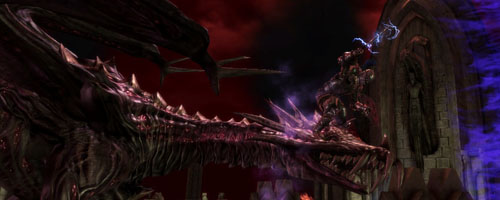 Honestly, and I don't know if you need to have tried to make this sort of game to really understand this, I cannot believe that a full blockbuster game budget has been spent on 7 years of development to make a game that lets you skip or miss out on this much content in order to present you with real, meaningful consequences to your choices. Not only is Dragon Age huge in its own right, but there's even more content in this game than you'll see on a full vacuum-style 60-hour playthrough. It blows my mind.
And one final thing. This will probably sound embarrassing, especially in light of the fact I know my mother reads this blog, and if so I apologise, but I have to mention this detail. The voice clips played by your party characters when you select them or give them orders during the game change depending on your approval rating with them and whether you've pursued their romances. If you complete Leliana's romance, every time you select her, she gives off the most adorable "Hey you." I totally melted every time I heard it. It was the best thing ever. Sadly she stopped doing it when I broke up with her to be with Alistair instead…
Dragon Age is basically a small miracle. It shouldn't be possible to make a game like this with that sort of budget in this day and age. I implore you to buy this game if you haven't already. I want BioWare to have your money, in addition to mine. They deserve it for having the guts to pull off something like this.