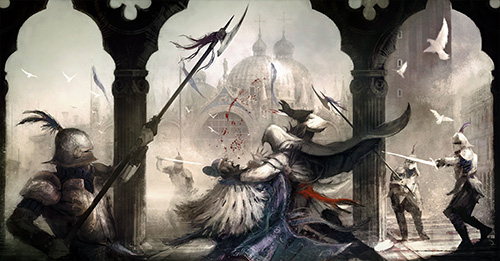 I don't mind that it's basically impossible to die in combat in Assassin's Creed 2.
It has been put forth that AC2 is very easy – too easy, even. That's not quite accurate in my experience, I have died several times from making a poorly aimed jump across a very deep chasm, and I have had to restart many timed jumping puzzles over and over again as I repeatedly failed to complete them within the allotted time limit.
It's just that you are pretty much immortal in a sword fight. It takes an incredible amount of hits to bring your health down to empty, and the final point of health just seems to last forever. Even then, you can carry enough medicine with you to single-handedly retcon the Black Plague out of history. The only way to lose a fight in this game is to leave the game running while you get the groceries.
But I don't mind.
My main motivation in Assassin's Creed 2 is the aesthetic rewards. Being almost untouchable in a fight would normally render stealth completely unnecessary – why would you even try to sneak up on a guard when you can happily alert him and his 5 friends in the room next door and then drop them in a straight-up fight without breaking a sweat? Well, you'd sneak up on him because the backstab animation is incredibly satisfying.
I acknowledge that it's not enough for everyone, and I do think the lack of challenge in Assassin's Creed is a bit of a design flaw. At least give us some difficulty options so Quinns can enjoy it too. But the promise of cool-looking moves turns out to be all the motivation I need. As I break cover and slowly walk up behind a heavily armed guard in a library at exactly the moment when his two friends turn their backs, I may not have to worry about loading a checkpoint several fights and jumping puzzles back if I'm seen, and yet I still sit at the edge of my couch, tense, tongue hanging slightly out of my mouth, because if I'm not spotted, I can execute two of those guards with a single keypress and a really satisfying schnikt sound.
Coordinating sneaky assassinations to clean out an entire area without getting spotted makes me feel sufficiently badass that I don't just run in guns blazing, and that I feel a strong sense of failure if I'm discovered and attacked by the remaining guards half-way through my stealthy murdering spree.
And that's why I loved Assassin's Creed 2 despite its only challenge being the godawful timed jumping puzzles. May they be purged with fire from Assassin's Creed 3. And do implement a difficulty setting by then too, yeah?