This intro is going to go on a bit, so feel free to skip to the bold text if it begins to bore you.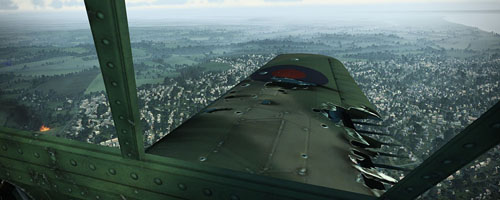 For almost as long as I've played computer games, I've played flight simulators. I admit that's… bending the truth, at best, but one of the first PC games I had access to was a civilian plane simulation on a blatantly illegally copied floppy disk labelled simply "FS3 Fly". I had no idea at the time, but FS3 was Microsoft Flight Simulator 3.0, and though I did occasionally try to fly properly from the starting airfield to another airfield and attempt a landing (and invariably crash on the runway), I mostly spent the time taking off, pretending there was some sort of horrible mid-air accident, and then deliberately crashing into one of the nearby skyscrapers.
Despite such early exposure to the genre, I was never really willing to put the necessary time into learning how to operate a flight simulator, so I've gravitated towards more arcade-style flight games since then. Unfortunately these seem to be quite rare. Crimson Skies and Airfix Dogfighter were two accessible flight games that both captured my imagination. Helicopter games seem even harder in general, but Thunderstrike 2 was a memorable exception that I would still be playing today if the graphics weren't so appalling in hindsight. Space simulators have provided a good alternative, with Terminal Velocity and Descent 3 both standing out in my memory, as well as the slightly more recent Freelancer and the unequalled Freespace 2.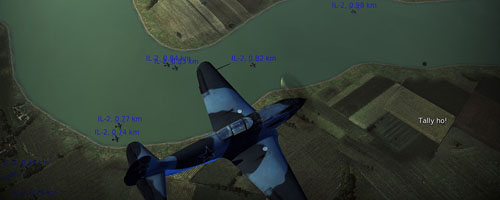 When my normally quite well surpressed inner gadget fan got the better of me just over a year ago and caused me to purchase a rather fancy HOTAS flight stick from Saitek, I spent a long time shopping around for flight games that I would be able to play without breaking my neck on their difficulty curve. I already had Blazing Angels on the Xbox 360, so I didn't want to play it again on PC. IL-2 Sturmovik seemed very promising, and I read that it had many options to make it easier for newcomers, so I picked it up, which memorably resulted in a blog post headlined by this little illustration:
On the opposite side of the spectrum, Gelo decided to buy me Blazing Angels 2 on Steam for christmas. Sadly, its flight stick support was utter rubbish, and resulted in a long string of run-ins with both Steam's and Ubisoft's support systems, eventually culminating in me solving the problem by pirating the game and then patching the pirated copy. At which point I realised that it was blatantly designed for gamepads and was terrible to play with a flight stick.
So my problem was that arcade flight games weren't immersive enough and/or poorly calibrated for flight sticks, whereas proper sims were way too inaccessible and difficult for a newbie like myself. HAWX was a step in the right direction towards achieving some sort of compromise, but regrettably its flight model wasn't even high enough fidelity to make bombers and air-superiority fighters feel different to fly – it might as well have been a space sim.
This is where Wings of Prey comes into the picture (and you can thank me later for reminding you that this isn't a professional games blog by taking 5 paragraphs to actually get to the game this post is about).
Wings of Prey (or IL-2 Sturmovik: Birds of Prey as it's called on the consoles) is a World War 2 flight game. If you imagine a scale of flight games that goes from 1 to 100 where 1 is the Blazing Angels games and 100 is the IL-2 series, I'm pretty confident that Wings of Prey would be exactly at the 50 point mark. Wings of Prey admirably has three difficulty settings: Arcade, Realistic, and Simulator. I've only played it in Arcade, so everything in this post applies to that mode.
The brilliant thing about WoP's Arcade mode is that it still feels like a flight sim, but the difficulty and the action is that of an arcade game. This is because of how the plane handling is implemented, and because of a few carefully selected details that retain some of the challenge and feel of the simulation mode even while stripping away most of the complexity.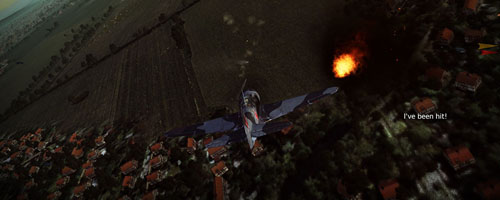 Most significantly, planes can still stall. That's something you're not going to get in Blazing Angels, and only if you switch off your flight computer in HAWX. Some planes are more maneuverable or faster than others, and the ease with which they stall also varies. You're not going to blackout or red-out in Arcade mode, and recovering from a stall is quite easy, but it adds that essential feeling that you're wrestling your plane for control, struggling to push it to do what you need it to do, to keep the enemy in your crosshairs or to keep yourself out of his.
I was surprised to find that it was easier for me to aim in the cockpit view than in the external view. This is because when your plane bounces and changes direction, your view stays fairly stable in the third person while your aim jumps all over the screen. In first person, your view remains snapped to the movement of the plane, which means the aiming reticle stays at the same place on the screen. The cockpit view is much more immersive, yet I tend to play in the external view in flight games because it's usually much easier, so I loved being encouraged to stay in first person for once.
It's not just the stalling or the turn speed that makes the planes stand apart, it's the stability as well. For example, if you fly a mission in a Spitfire IX followed by another mission in a P-51D5 Mustang, the Mustang is going to feel bouncy and excitable compared to the calmer Spitfire, which makes it a little harder to hit what you're aiming at. Of course planes also have different loadouts and durabilities, and some planes like the IL-10 has a tail gunner you can take control of if you wish.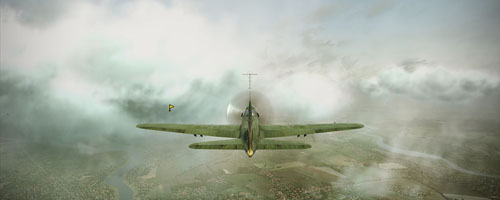 Another huge immersion thing, which I've really been missing from the Blazing Angels games and HAWX, is the option missions often give you to start out on the landing field. These missions also allow you to keep playing after you've completed the primary objectives, such that you can go back to base and land the plane yourself for a more satisfying end to the sortie.
In addition to these features, the game has a host of little details that add to the experience without making the game harder to play. Your plane quite reasonably goes faster when you're diving and slower when you're climbing. Firing your guns slows you down ever so slightly, which can make a crucial difference if you're pursuing an enemy. If your engine is damaged, your cockpit gets covered in soot, if you fly through the slipstream of a downed and burning plane, it gets covered in oil, and if you fly through a cloud, it has the most awesome rain effect.
When you go into a mission, you get three different difficulty options. The first is always a choice between Arcade, Realistic, or Simulator mode. The second asks you how many attempts you want, which determines how many times you can respawn in the mission after you're shot down. For full-on heartpounding masochism, set it to None. I always had it on Unlimited so I lost nothing but my own self-esteem when I was shot down. The last option is either whether you want to start on the runway or in the air (in campaign missions) or whether you want fuel and/or ammunition limits (in single missions). For me, that's the perfect set of options to create your own optimal mix of realism and fun.
Finally, there is of course the mission design. The campaign takes you through a selection of sorties from six famous air battles: the Battle of Britain, the Battle of Stalingrad, the Invasion of Sicily, the Korsun Pocket, the Battle of the Bulge, and the Battle of Berlin. The main character changes often, and you get to fly several planes for the British Royal Air Force, the Soviet 6th Air Army, and the US Air Force. The mission objectives are varied and fun, ranging from the standard bombing, dogfighting, or escort to strafing, rescue of a downed pilot, or intercepting V1 missiles. The chatter from other pilots and your commanders during missions is unobtrusive, informative, and adequately acted. The only issue is that the diary entries of the various pilots that begin and end most missions are all read by the same (inept) actor.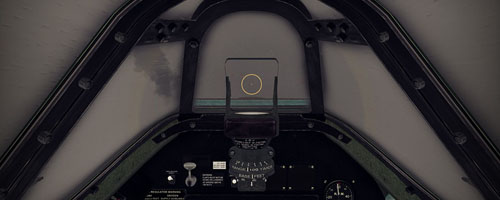 The single missions are shorter sorties with no mission-relevant voice-over, sorted by geographical location into the same categories as the main campaign, and the handful I've played so far have all been a lot of fun. Some of them are even pleasingly quirky, such as the final single mission in the Battle of Britain category, which tasked me to identify a bomber that acted slightly weird amongst a flight of other bombers, and then shoot it down. There's also a Training mode where you can set up your own fights and tailor the scenarios to your exact specifications, including the weather conditions, the type and loadout of the enemy planes, and whether there should be friendly or hostile anti-air installations on the ground.
I haven't played the game online, but I just might give it a try. I have no doubt that I'll be shot out of the sky and immediately quit in anger, but this game really is exactly the right mix of simulation and arcade fun that I've been looking for, and I want to squeeze every last drop of entertainment out of it before I put my flight stick away again to await the uncertain release of HAWX2.