I just posted this over on the OTP forums, but the post ended up a pretty respectable length, so I thought it might be worth mirroring here to fill the time before I get around to some of the planned updates.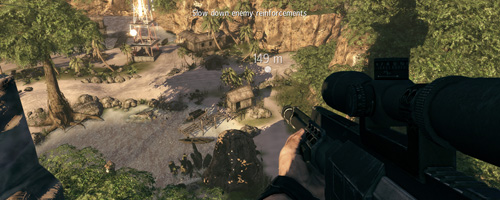 I bought a new game called Sniper: Ghost Warrior a few days ago on a whim and finished it today. I would give it probably 6 or 7 out of 10. It has a bunch of issues, but by and large I had a fun time. Sniping is my preferred mode of playing action games, and I always love a good stealth game, so any game designed specifically to cater to those niches would get a few free points on that count.
Its structure is pretty simple – you go through a linear series of mostly linear but slightly open missions, switching perspective several times on the way; you primarily control a lone wolf sniper, with the occasional mission putting you in control of a Delta Force operator in a 3-man team or a member of a rebel guerilla group. One mission gives you control of the sniper's spotter instead, and makes you designate targets for your normal avatar to shoot – it's fun and adds a lot of variety.
As an action game, it's surprisingly decent – it's built with the engine that was written for the brilliant Call of Juarez games, so the weapons have a lot of weight and impact to them, and especially the fully automatics feel chaotic and just the right amount of inaccurate. There's an on-rails shooting sequence which works really well, there are a couple of slow-motion room clearing sequences, and even the sniper parts occasionally turn all action-y, as in the splendid mission where you have to move along the cliffs and support the Delta Force team as they carry out their mission and make their escape below.
As a stealth game, it's… all right. It has some problems. The camouflage of your enemies works surprisingly well insofar as you often don't see them until they start shooting at you, but even though you're wearing a ghillie suit, it seems like as far as the AI is concerned, you might as well be dressed in an orange vest with reflex strips. This is compounded by the fact that while foliage generally does a decent job of concealing you when the enemies are unaware of your presence, if they know you're there, they seem to see right through it, leading to those typical Far Cry situations where you can't see the enemies for the foliage you're trying to hide behind, but they can see you perfectly fine. That said, enemies usually give you a good window before they spot you until they realise you're an enemy and attack you, in which to whip your scope around and shoot them in the face. It would be an amazingly frustrating game if it relied on checkpoints, but mercifully it has quicksave and quickload, which makes it a pretty decent experience as a stealth game. You just have to get used to the flow of it.
As a sniper game, it's almost too detailed for its own good. On higher difficulty levels, you have to manually estimate the effect of wind and gravity over distance on your bullet's trajectory, which I can't even imagine doing in some of the more hectic situations. On easy mode, thankfully a little red ring shows up if you hold your scope still for a second, showing you where your bullet is really going to hit. Unfortunately this slightly ruins the connection you feel to the shot – the appeal of placing the crosshairs on an enemy's head and enjoying the red mist when you press Fire is slightly lost because you don't feel as much in control; you're just following the little red ring. A lot of the satisfaction of one shot one kill is retained though, and of course a sniper game would have to have fairly detailed sniping. Further, there is a "focus" mode which slows down time if you hold Shift while looking through your scope, which makes it much easier to pull off the harder shots and take out several targets before anybody has time to react.
The big problem is that the whole game seems kind of glitchy. The AI isn't generally very good, enemies tend to spawn unpredictably, sometimes you'll fire a perfect shot and the bullet just seems to vanish, and though I'm all for simulating the unwieldiness of long rifles by raising or lowering your weapon if you get too close to a wall, the implementation in this game seems a little too twitchy. Also I don't know if this is to be blamed on the game or my hardware, but when I've been playing for a while, the game tends to lock up for half a minute when I quicksave, and once in a while all the voice-over and sound effects just disappear – the only way to solve that is to restart the game.
If you get this game, do yourself a favour and disable the bullet cam, because it's super annoying. Make sure you enable it again at the very end though, when you're about to shoot the Big Bad Evil General, since the ending is incredibly lame and unsatisfying without it. Oh, and don't make an Internet profile – if you do, the game kicks you if you lose your Internet connection, but it doesn't do that if you create a non-Internet profile.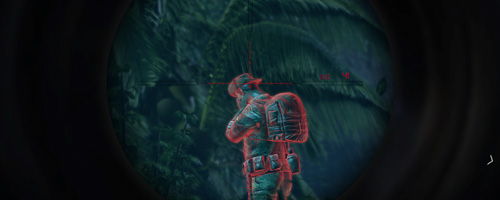 In conclusion, if you really like sniping and you really love stealth games, Sniper: Ghost Warrior has both of those and isn't too bad. At a mere 30 € on Steam for a respectable 5 and a half hours of singleplayer gameplay plus multiplayer, I'd say it's worth buying if you're into either of those things.