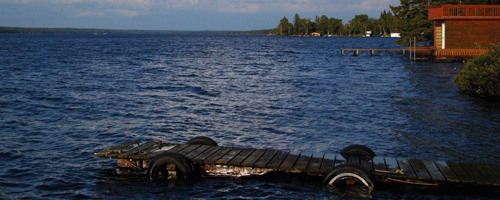 I'm in Valby, Copenhagen, Denmark.
Back in the Old Country.
I'm trying to debrief myself onto this blog before the last part of my head comes with me back from Canada. I should probably skip Thursday and Friday and go straight to Saturday, which I remember as the best day of my vacation because it was packed with activities.
Friday evening, Lawrence drove me up to Winter's family cottage on Falcon Lake to meet with her uncle and cousins. It was about a 2 hour drive from St. Malo, and the night was spent playing Cranium and drinking with the neighbours. I may be generalising too much in either direction, but it seems to me that the Canadians use their cottages for the opposite purpose cottages are used over here: we leave the cities and go to our cottages to get away from people, whereas it seems like the Canadians come to their cottages to be around other people with cottages.
In the morning, we were joined by Winter and went swimming off a tiny, almost private beach. Then we went horse-back riding. Winter used to work at the nearby ranch, so we got a private ride for the price of a normal one, meaning the four of us went alone with a guide. The trail was really beautiful, taking us through coniferous forest, down into an old gravel pit, into deciduous forest, through the water of a marsh area, and over the rocky ground of the Canadian Shield. It was later brought to my attention that I looked quite amusing whenever we went into a trot, but at least I had no problem staying on the horse, so I suppose I'll just have to learn proper trot technique next time I get a chance to ride.
After the ride, we went down to the lake again to go swimming off a rock outcropping (covered in seagull shit and bits of dead crab – all the more incentive to go into the water). For reasons of squeamishness, I'm not a fan of swimming in the sea, so I really appreciated this chance to frolic in a nice, clean fresh-water lake. As we'd returned to the cottage and dinner was being prepared, a friend of the family came by in his flashy new speed boat and took us for a sail around the lake at unreasonable velocity.
That, my dear friends, is how you enjoy your vacation.
Now… the problem with travelling is that so much time is spent getting around. Flying is fast and convenient, but it's not fast enough, and it's not very pleasant. If there's a less interesting way to spend a whole day than sitting on a transatlantic flight for 9 hours, I have yet to discover it. When the flight takes you towards the east and the hours almost literally fly right past you such that you arrive at an 8 am that feels exactly like 2 am, you know you'll enjoy the after-effects of your trip for another 2 or 3 days at least.
Jetlag aside, this trip was just what I needed. I return blonder than I left, and with much healthier skin for some reason (I guess sunlight doesn't just give you skin cancer, it can benefit you a lot in moderation). After several summers idled away in front of my PC monitor at home or at work, it feels great to finally get out of the country and do something genuinely worth-while. It was my first vacation of more than 2 weeks, and it was my first time ever out of the European Union. I know this vacation is going to stay with me for the rest of my life.
Canada, in very short, as seen through the eyes of a Dane, is: huge and mostly empty, American but friendlier, wealthy but modest, beautiful and varied, and has truly awful infrastructure – seriously, even if you find a home where you're blessed with both Internet access and a cell phone signal, you'll be truly lucky if any buses go there, and you can count trains right out. I would love to get a job at BioWare and live in Edmonton, but I suspect I will miss my dark rye bread and my bicycle. Hopefully next year, I'll be able to come back and attend Lawrence and Winter's wedding. And maybe I'll continue on to British Columbia afterwards, and see some of those Canadian Rockies that everybody pictures when they think of Canada.