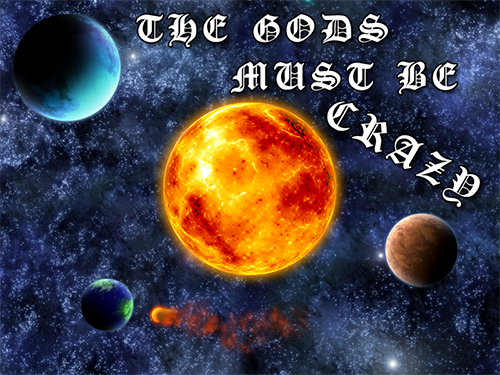 The Global Game Jam came and went around two months ago, but I never got around to blogging about it because things started happening immediately afterwards and never let up. Same old excuses I suppose. I also wanted to wait with posting about the game until I'd finished editing a quick video playthrough of the game, but when I did finish working on the video a few weeks after the jam, it had all sorts of problems pertaining to framerate and aspect ratio, so that whole video has been scrapped. Now I find myself with half an hour to kill before bedtime, I figure I may as well squeeze a game jam post in before my current project wraps up and I'll need to write about that.
The Nordic Game Jam, flagship jam of the Global Game Jam was, like last year, totally epic. Better yet, unlike last year, I did not throw up out of sheer sleep deprivation and have to go home to sleep through most of Sunday this year, though I did as usual feel incredibly sick Sunday morning after just 4 hours of terrible sleep. The jam took place from Friday to Sunday, with some lectures and seminars on Friday culminating in a string of keynotes and announcements leading into group forming, game pitches, and teams filing out into different rooms across the IT University of Copenhagen.
Dutch Gentleman Adventurer Erik "EER" Renes answered my call to action and made the 10 hour drive from The Netherlands to Denmark to attend the largest game jam in the world. We quickly met up with a couple of class mates from what has become my steady group for socialising, and in complete spite of the philosophy of the "capitalist line" (ideas first, groups second), we decided to work together before we even had this year's theme. The theme was the for a game jam excellently suited "Extinction", and after pitching three ideas between us, we caught hold of a graphics artist and decided to make a game about destroying all life in the universe.
After briefly entertaining the idea that we might use Unity, we sobered up and chose XNA for the project. We then proceded to make The Gods Must Be Crazy. I'll just reuse the promo text from the game jam page here:
Clearly, life has to go. It's been messing up your godly Creation for far too long. The universe is in dire need of a good hard reboot. Throw meteors to wipe out all sentient life in the universe before each species has time to expand beyond control. Create solar flares to pause the growth of their populations while you plot their death. Don't let any of these pesky civilizations send colony ships to other planets!
It's far from a perfect game, but I think it turned out to be a pretty entertaining and amusing little diversion, and most importantly we had a very good time working on it (mostly). Moreover, we ended up actually getting a jury's award from Jesper Juul, whose name you may if nothing else recognise from my blogroll, where he's been for absolute ages. It even came with this fancy diploma, so even though our game consistently got tragically few votes from the audience, at least we have proof that one of the real experts appreciates our work.
You can download the game from the Global Game Jam page, or you can grab it directly from the OTP servers by clicking these very words

.
[UPDATE: 10-12-2011]
Prakash created a video of the game a while ago, I finally thought to embed it here for the convenience of future visitors. Enjoy.