In March, I made a game called Broken Dimensions:
Broken Dimensions is my graduation game from DADIU, the Danish Academy for Digital, Interactive Entertainment. Ours was the last class to make two full game productions as part of the programme (last year I worked on Imachination) – starting this fall, DADIU will become a one-semester programme involving a curriculum and a small prototype-style project in addition to one big game production. Time will tell if that produces better games or not, but it certainly will fit better into the curriculum of IT University students. I didn't get any ECTS credit for this production, but I'm using it in my MSc thesis, so at least it'll get me a modest scope reduction there.
Broken Dimensions is a puzzle-adventure game. I could also call it a puzzle-platformer, but then you immediately think of side-scrollers about jumping accurately, and Broken Dimensions is more about… falling with style. I could also call it a horror game, but it's more creepy-freaky than horrific. Puzzle-adventure it is.
You'll find it reminds you a lot of Portal. This is down to several factors, the overriding cause of which is a combination of me really liking Portal and just happy circumstance:
Like Portal, Broken Dimensions was built entirely around a single core gameplay mechanic. Everything else, though also important in my opinion, came second.
Like Portal, this mechanic isn't just a way to solve the puzzles, but also immediately becomes your primary way of navigating the levels.
Like Portal, you're guided through the levels by a friendly woman (sometimes appearing only as a disembodied voice) with the promise of candy.
Reception has been pretty good. Though I fully expected to be cleft in twain by the panel at our evaluation, if nothing else then because the game is super hard if you're not a bit of a puzzle game connoisseur, their feedback was overwhelmingly positive (none of them had actually finished the game, but they all enjoyed the parts they saw, and at least one of them would've definitely finished it if the final puzzle hadn't glitched out on him). Likewise, IndieDB and Desura's users have given us a fairly good rating and many flattering reviews – amusingly, many of the comments there indicate that the game is too easy for hard core gamers.
Finally, the national newspaper Politiken has reviewed all the graduation games and gave Broken Dimensions 5 out of 6 stars with a special emphasis on the quality of the puzzles.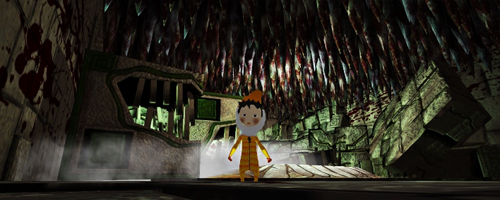 I'm not going to do a full post-mortem here, but I'd still like to go over what went right and what went wrong in my opinion. I think the best qualities of Broken Dimensions are its completeness, its consistency, and its intuitive controls. It may not seem so, but Broken Dimensions is a very long game for a 5 week production – though this meant our artists couldn't spend nearly as much time as they'd have liked sprucing up the levels and making them look less boxy, it gave us room to let the game develop as you play through, including a complete story arc, a minor plot twist, gradual introduction of new mechanics, and most importantly a suitably gradual difficulty curve in the puzzles. We even managed to squeeze a little environmental storytelling into the levels, and the final level has an in my opinion genuinely startling aesthetic shift.
The consistency of the puzzles is another success, though bear in mind this is essentially me patting myself on the back for a job well done. I completely bent my brain over and folded it in on itself to design properly 3-dimensional puzzles for a fundamentally 3-dimensional game, and I'm quite pleased with how well the final set of puzzles that made it into the game explore and exploit the core game mechanic of rotating the world around you. We had many more types of obstacles and possible ideas for extra mechanics in mind while working on the game, but in the end we kept it pretty simple, and the game is all the better and less gimmicky for it. This is aided tremendously by the intuitive control system, for which I can only take half the credit – the other half must be given to the programmers who helped me plan it by pointing out problems with the initial design, implemented it, and made it work. I'm quite proud of the way the rotation keys change to match the orientation of the camera, everybody seems to find it very intuitive, and I personally find it incredibly satisfying to control.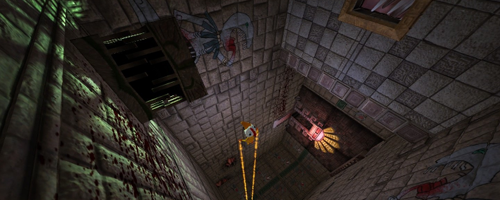 All this is tainted by a few problems, primarily an annoying amount of glitches, some general difficulty issues, and several missing features. The PhysX system in Unity gave us quite a lot of grief throughout development – PhysX is probably the best physics engine on the market, but Unity doesn't give you full control over it, making it hard to tweak it just right. Exacerbating this, the whole idea of physics-based puzzles in the first place is a little problematic, since puzzles (unlike problems) are essentially non-emergent, and the emergent nature of physics systems tends to do more harm than good when used for this sort of puzzle.
I'm overall pretty satisfied with the way the difficulty ramps up gradually throughout the game, but the general difficulty of the game seems to suit very few people. A lot of players find it excruciatingly hard to even navigate the game, many others find the puzzles to be trivially easy. I've talked to just a handful of people who thought the difficulty suited them. Puzzle games, at least of this kind, are extremely hard to balance, and next to impossible to implement different difficulty options for. You can't just raise the player's health like in combat games, and there are no opponents to be made weaker or less accurate. The only real option would be some sort of hint system, and that tends to ruin the play experience entirely.
There are certain other features I miss, however – most importantly, the game really needs a level selection menu. This is on the list for our lead programmer Elvis to implement when he has time, but I think its absence hurts our chances at the various competitions and festivals where we've submitted Broken Dimensions. Another problem is that you can't access and change the options from inside the game, meaning if you play it for a while and then realise that you're constantly rotating the wrong way, you have to start over if you want to invert the rotation controls. As an advocate of accessibility, it also saddens me that we didn't have time to implement closed captioning: subtitles for sound effects as well as dialogue audio.
Overall I'm extremely proud of Broken Dimensions, both of my own contribution and of the overall quality of the game. Everybody on the team did a bang-up job in the face of our own far too high ambitions, and though I flinch at the thought of the glitches people have encountered, I'm astounded that the game works at all considering how little time we had to develop it. As I mentioned, the game has been submitted to several festivals, including PAX, IGF, and Indiecade. I really hope we get to go to at least one of them, as I think we deserve it for having made a super engaging and satisfying little puzzle game.
You can play Broken Dimensions in your browser at BrokenDimensions.com, but I recommend downloading the Windows or Mac client, available from the same website, as it looks a whole lot better.