Since not long after I got an iPhone, I've had an unfulfilled use case in my life for a tablet. Sitting on the couch, lying in bed, or just lounging about somewhere in town waiting for something to happen, a smartphone is an extremely convenient way to access that ultimate time sink, The Internet. In such situations, typing isn't very important, most of my time is spent reading my Twitter feed, checking Facebook, relentlessly refreshing Reddit, and generally just being embarrassingly Web 2.0. The problem is that a phone screen is so small you have to basically stick it in your face, which cancels out a lot of the convenience of not having a full-sized laptop sitting in your crotch, gently melting your genitals. That iPhone was serving the use case reasonably well, however, so a tablet just wasn't worth the money.
At the same time, my laptop has been less and less useful as time has passed. At 6 years old, it's no longer powerful enough to run reasonably modern games, and while a smaller laptop might make up for such shortcomings by adopting a new role as a digital type writer, my laptop with its 17″ screen is just a bit too large and heavy to carry everywhere. I've been thinking about getting a netbook instead, to fill that need for a mobile typewriter which is especially prominent right now when I'm finally working full-time on my thesis, but available netbooks just didn't seem to be worth the price.
But then this little spark of genius appeared unexpectedly: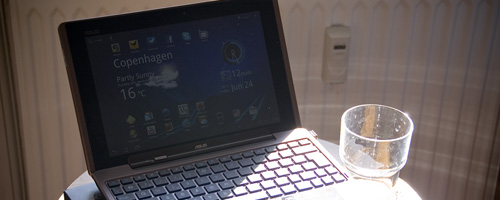 That's the ASUS Eee Pad Transformer, or the TF101 if you want to make it sound like some secret military detachment. It runs version 3.0 of Android, Honeycomb, and the magic trick that makes it worth its price where ordinary netbooks or tablets aren't, is that it's both.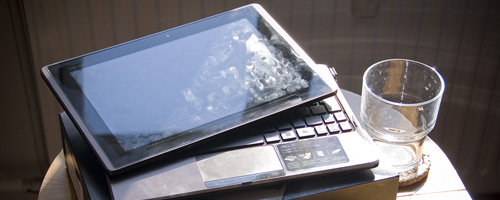 The Transformer is mainly a 10.1″ tablet, and its most natural mode of interaction is the multi-touch screen. By itself, it's a pretty solid little device with a good, clear screen (even with the inevitable smudges you see so clearly in the above photo), an audio jack, mini-HDMI output, and a micro-SD slot for external storage just like a phone. Honeycomb isn't quite as fundamentally smooth to interact with as iOS, but it's clean, it's logical, and it's fairly pretty – above all its "back" button is pure magic, flawlessly predicting whether you want to go back to the last place you were within whatever app you've got open or whether you're trying to switch back to the last app you were using.
DockTales
The whole idea of the Transformer, however, is its dock, which doubles as a keyboard. The dock has two USB ports and a standard SD slot. It also has its own battery that always charges the tablet battery when they're connected, ensuring that the tablet has the highest possible charge if you undock it, and giving the Transformer an alleged 16 hours of battery time (it's less if you actually use the thing, but it tends to last me a couple of days so far). When you connect the tablet to the dock, a cursor immediately appears on the screen, and all on-screen keyboards in the OS are disabled so you can type on the real keyboard instead. The touch pad below the keyboard works just like the touch pad on a Macbook, including the super convenient two-finger scroll gesture. You can even hook a USB mouse up as well and it'll work right away, with no fuss at all.
The keyboard is both the main strength and the greatest weakness of the Transformer, because it's not really very good. It has some super useful functions that work extremely well with Android, such as a back key and a home key, and possibly its most useful key is the one that disables the touch pad so you don't accidentally touch it while you're typing, but its keys aren't as forgiving as I would've liked. If you hit their corners or even sometimes their sides, rather than hitting them right in the centre, they have a bad habit of ignoring your stroke. I type too damn fast to hit the keys that accurately, so I tend to curse a lot.
It's also a big problem that some apps or websites have loads of input lag, which makes it hard to tell if you've hit the right keys or not – I can't say if that's ASUS's fault, Android's fault, or the fault of the apps or websites in question. The Transformer comes with an office suite called Polaris which is slightly too devoid of features to be a complete replacement for Microsoft Office, but which at least works quite well with the physical keyboard, detecting more strokes than most other apps or sites and with almost no input lag.
And speaking of lag, I have experienced some performance issues, both in the OS itself and on websites and in apps. The Transformer has 1 GB of RAM, and it seems like that may be pushing it a little. A greater problem, however, is that many apps handle the keyboard fairly poorly, and if you connect a USB mouse it only gets worse – for some insane reason, right clicking either on a mouse or the buttons beneath the touch pad defaults to "Back" instead of calling up the drop-down menu that you typically activate in Android by pressing and holding on the touch screen of the tablet. The mouse's scroll wheel is also largely ignored – the OS occasionally manages to translate it into the equivalent of pressing and dragging on the touch screen, but too often it doesn't seem to work.
App-less and oranges
If you don't mind the inconsistencies of the input methods at your disposal, however, the Transformer is extremely handy. If you need to write up an email you simply slot the tablet into the dock and press it down gently until the lock clicks in, and then you start typing. When you want to lean back and waste some time on Reddit, you undock again and put the tablet in your lap so you can browse lazily, your genitals blissfully unroasted. In netbook mode, the tablet goes to sleep when you fold it down and wakes up without a hitch when you open it up again. It's a perfectly good tablet and a fairly decent netbook, and it costs no more than what any other good tablet would set you back.
In the end it will come down to the app selection on the Android Market, as it always does. Right now two major criticisms of the Transformer is that there are very few HD (ie. optimised for tablets) apps on the market, and that even fewer of them work very well with a keyboard and mouse. The former will hopefully be fixed when Honeycomb converges with the other Android versions – which is scheduled to happen around the end of the year as I understand it – and the latter is tolerable in most cases. The main thing I'm missing for now is a better browser, as the built-in Chromium is slow and clunky and Dolphin HD has some interface design decisions that cause me much frustration. I also drastically need to find a way to import my PC Chrome bookmarks into either of those browsers – none of my attempts to do so have succeeded thus far.
The more I get used to the idiosyncrasies of Android and the Transformer, however, the more I enjoy it, and the more certain I become that I made a good purchase. If you happen to want a tablet and need a netbook but you don't think either is worth the price on its own, the Transformer is hereby recommended. And if you don't particularly like Android or you just need a device that can run Windows programs, a version of the Transformer running Windows 8 is slated for release some time next year.