I'm almost afraid to write this post. There's so much to say, and I'm not sure how to organise my thoughts. Moreover it's difficult to identify my own biases based on my history with the Deus Ex franchise and weed them out of my opinions to form something at least marginally useful. I'll give it my best shot below, but remember this is not a formal review, this is just my thoughts on the game, written in whatever order they matter most to me.
You may expect intense spoilers. Lots and lots of spoilers. All sorts of spoilers, both for the narrative and the mechanics of the game. You should not read this unless you've finished the game.
Deus Ex: Human Revolution is brilliant
I love it to bits. I'm mostly going to write about the things that bothered me, or the design decisions that I disagreed with both in general and relative to what I know about the paradigms that gave birth to Deus Ex. Before I get to any of my criticisms or doubts, however, I must emphasise that I mainlined this game for 4 days straight and finished it in just under 40 hours. I forgot to eat. I neglected to sleep. I let myself be transported into a completely different world, at once reassuringly familiar and intriguingly fresh and different, and I loved every second of it. Yes, every second. Yes, even during the boss fights, which isn't to say I like the boss fights at all – I'll get back to that.
Deus Ex 3 is very much a return to form for the franchise – in abandoning the uncompromising ambitions for constant reinvention of the Origin / Looking Glass school, they've managed to recreate most of what made Deus Ex special while introducing all the no-brainer features that are expected of a modern AAA game. A lot of what Deus Ex does, Human Revolution does better – as just a few examples, the city maps are much bigger and function as proper hubs to an extent the original city levels didn't, hacking a computer gives you unlimited time to read through all its emails, and the acting is infinitely better (people in China actually often speak Chinese! I have much respect for this). Most of the modern updates they added to the design are unmitigated improvements, such as the cover system which changes the nature of both the stealth and the combat in directions I wholeheartedly approve of, or the iron sights which are pretty much mandatory in a modern shooter and improve the feel of the combat significantly.
Their dialogue is well written and well implemented, and their narrative is thematically extremely strong. Though I caught myself hoping for a revisit to one of the original Deus Ex locations, I very much respect and appreciate that Eidos Montreal resisted the urge to shoehorn obvious references to the original into every aspect of their game – you'll find plenty of tie-ins to the DX story if you look for them, but they're mostly quite subtle and fit naturally into the plot and setting. (Still hoping to infiltrate Area 51 or Liberty Island or somesuch in some DLC though.)
There are other minor ways in which DX3 falls short of DX1, especially the end of the game (it got the job done, but it was fairly weak compared to the first game, both in terms of the endings themselves and the build-up to them). It also seemed to have fewer memorable characters than DX1, but it also had far fewer characters that seemed included just for the hell of it, so I guess that evens out. The health regeneration didn't bother me nearly as much as I'd expected it would, but the energy system did foster some weird and problematic behaviour in me – I quickly realised the best tactic was to keep all but your last battery drained most of the time and instead drag around a bunch of items to charge up your energy for when you need it.
Instead of trying to list a myriad of small criticisms, however, I've picked the 5 main problems I had with Human Revolution, presented here in order of most to least annoying:
1. XP for takedowns
As I understand it, Deus Ex was fundamentally conceived out of Warren Spector's frustration that Thief would not allow him to think on his feet and fight his way out of a bodged stealth attempt. The whole philosophical core of the game design is that players should be able to play the game in whatever way they choose, and not get punished for it. The original game didn't entirely succeed at this – some play styles are vastly more useful than others, and some styles yield far more rewards in the form of items or background info. Nevertheless, you never feel overtly punished for indulging in some combat here and there, you rarely have to load your quicksave if you trigger an alarm, and for every NPC that scolds you for murdering enemies, there's another NPC ready to pat you on the back for being a cold-blooded badass.
One of the most important design decisions that facilitated this balance was the lack of skillpoints for taking out enemies. Skillpoints were reserved for completing objectives, be they mandatory or optional, with a few bonuses thrown in here and there for exploration*. That way, neutralising enemies was only mildly more rewarding than avoiding them completely, and only in ways you were unlikely to need with such a play style anyway (after all, what use is ammunition if you're not confronting enemies anyway?) Knocking an enemy out was completely the same in gameplay and balance terms as killing them, only the narrative would change.
Human Revolution gives you XP for taking out enemies. In fact they give you XP for damn near everything – missions yield XP to the tune of 1000 or so a pop, pretty similar to Deus Ex. Exploration rewards are routinely 100 or 200 XP, however, to Deus Ex's 30-50 points. Even hacking yields XP, as opposed to Deus Ex. Not raising any alarms is 200 XP extra at the end of the mission, and not getting spotted triggers a whopping 500 XP bonus. Would you rather fight? Tough luck, you'll have to write off 700 XP per mission. Perhaps even more heinously, taking an enemy out non-lethally gives you far more XP than killing them. Shoot somebody and you get 10 XP – 20 if you got a headshot. Shoot them with a nonlethal weapon and you get a 20 XP bonus. Eviscerate an enemy with a melee takedown and you get 30 XP, knock them out and you get 50. Get two enemies together and knock them out at the same time if you have the aug for that, and you get 125, 62.5 XP per head.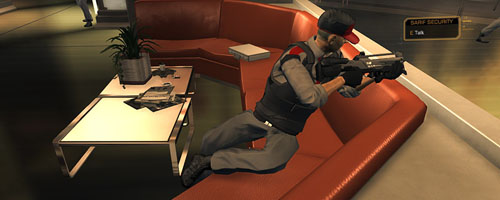 You might suggest that this is done to balance the fact that unconscious NPCs can be woken up again, but the fact that non-lethal weapons and takedowns are completely silent whilst the lethal approach generates ridiculous amounts of noise should easily take care of that, and besides – nothing except your own squeamishness/ethics is stopping you from executing unconscious enemies if you bring a silenced weapon. The funny thing is, I prefer going the stealthy route, I derive incredible enjoyment from sneaking around levels and knocking enemies out, remaining unseen and causing no alarms to be triggered. The XP system is rewarding my favourite play style, but it bothers me out of principle. I want to select this play style because it's what I like, not because it yields better rewards, and more importantly I want the freedom to draw my weapon and blast my way out of a sticky situation if I get spotted, and the freedom to hack a robot and turn it loose on the unsuspecting enemies without losing a 200 XP bonus at the end of the mission plus 30-40 XP for every enemy the robot mows down. I want to be able to use the silenced and fully upgraded combat rifle I've been lugging around since the first mission without being annoyed that I'm missing out on 30 XP.
In the end I mostly stuck to non-lethal takedowns even though I didn't really need the extra XP, and I finished the game with (according to his calculations) 7 upgrade points more than Mads, who went for a more aggressive play style. I also hacked every PC and keypad and explored every nook and cranny of every level religiously, but I'd have done that anyway, because that's the only way I know how to play a Deus Ex game.
* As an aside, I don't feel exploration can be accurately classified as a play style on par with eg. Stealth, Heavy Weapons, or hacking turrets or robots to turn them against their former masters – exploration is more of a meta-play style that facilitates the other play styles. After all, how would you be able to play puppetmaster if you didn't know about the back route that takes you right past the outer patrols to the security computer that controls the robots?
2. Boss fights
Much has been written on the subject, but I'll try to see if I can't add anything to the discussion. By the time I started the game, I'd already been warned from every source that the boss fights are pretty much terrible. Some had referenced Alpha Protocol, which I notably never finished because I got stuck on motherfucking Brayko as my stealth/hacking character build was totally useless in that boss fight. With this in mind, I stocked up on grenades and made sure to bring a combat rifle with me at all times: in case of surprise boss fight, break out rifle and hope for the best. The first boss fight proved just as terrible as I'd expected, but perhaps not in the way I feared – the first three times, he survived me unloading a full magazine of my upgraded combat rifle in his face, and then destroyed me with grenade spam. The fourth time, I threw a frag grenade at him first, then unloaded my rifle in his face, and he went down in all of about 5 seconds. The boss fight went from damn near impossible and entirely unfair to completely anticlimactic in an instant, with apparently nothing in between – not a good sign.
The second boss fight was not as bad, a little gimmicky but I failed it twice and then succeeded – it didn't feel as unfair, but I cheesed my way out of it with frag mines. The third boss fight was over in the second attempt when I found the right rhythm between spamming frag mines and shooting him with a stun gun. The final boss fight was much different and actually felt like it made pretty good use of the various augmentations and play styles at your disposal, but it was a little confusing and I'm not sure how it would play if you can't hack. I also think I managed to break it on my first attempt, but it worked fine the second time around.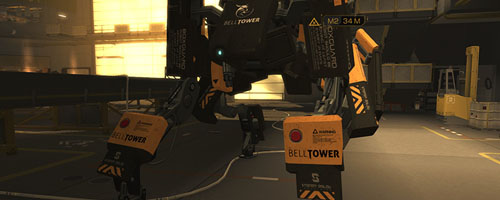 My main problem with the boss fights isn't so much about gameplay as it is about narrative and… philosophy. Honestly, failing a boss fight 3 times before you succeed is totally acceptable, and seeing how I cut loose with the lethal weapons anyway, it didn't affect me in directly that they all died in cutscenes in the end. However, knowing that there is no way to use stealth against these enemies, and knowing that even if you stick to stun gun, tranquilisers, and knock-out gas, they still die in cutscenes, offends me as a Deus Ex fan. What did affect me directly was how spurious and poorly supported they were. An antagonist is somebody who's supposed to be connected to the protagonist, and merely being another mechanically augged person in a world surprisingly full of mech augged people does not count.
You see all three bosses in a cutscene after the tutorial level, and the third boss shows up in another couple of cutscenes throughout the game, but apart from the first one who shows up in a couple of emails, you never even know their names until you look at their corpses after each fight. When I killed Anna Navarre in Deus Ex, and when I faced Walton Simons, they didn't have to be introduced in cheesy cutscenes and they didn't need special scripting – they didn't even have to put up much of a fight, because no matter what, it was going to feel special. They were characters I knew because I'd dealt with them many times and had interesting conversations with them throughout the entire game, they had reacted to my play style and other NPCs had discussed them with me behind their backs – I know these people and killing them was always going to be meaningful no matter how it went down. You could remove all three boss fights and every reference to the characters involved entirely from Human Revolution and it would change precisely nothing. Except the game would be three pointless, out-of-place boss fights lighter.
I wish they had.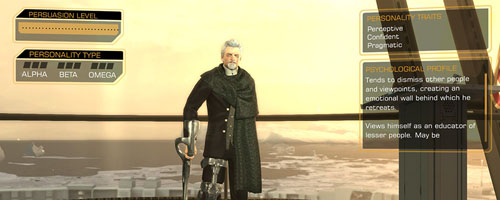 3. Pheromones
Maybe this one should be higher, but… it's less of a flaw than a massive missed opportunity. In case your memory needs refreshing, the game offers a social aug ("CASIE") which does a variety of things. This is used exclusively in a sort of negotiation-style conversation minigame where you have to pick your way through precarious dialogue with major characters that you need something from. Without CASIE, these conversations are incredible – you're forced to really listen to what people are saying and consider everything you know about them in relation to your dialogue options. In some cases you can even get useful clues as to how you're doing out of their facial animation, though more often than not it's too crude to read properly.
Many of the things CASIE does are fine. It displays a window with a short psychological profile of the person you're talking to, which genuinely helps you decide what to say. It gives you a reading of their personality type (Alpha, Beta, or Omega – I don't know if these are ever properly introduced, but I figured out what they mean pretty quickly). Most usefully, it gives you a "persuasion level" reading of how close you are to either losing or winning the argument. All of this works splendidly. Where it picks all of that up and tosses it directly out the window is with the addition of a "pheromone" button. This is basically a magic cheat button where no matter how good or bad a job you're doing of winning your opponent over, all you have to do is keep an eye on their personality type readings and then pick the matching line to instantly win the argument. That entire brilliant structure I outlined above, all of the work and thought that went into that goes completely out the window, and worse – you miss out on a whole bunch of really well written and acted dialogue.
If you have yet to play Human Revolution and you unwisely decided to read all the way down to here despite that, I implore you: never use the pheromone button. You can still get the CASIE aug, its persuasion level reading and its psych profile are both extremely useful, but winning an argument the proper way is by far the most satisfying way to do it. I've tried both ways, and I can tell you I'll never be using those damn pheromones again.
4. The economy is broken
We're approaching niggle territory. Those three points above? Those were some serious points of critique, major annoyances that bothered me for the entire game. This… is more of a detail. And really, it's not like Deus Ex did it much better, but still: the economy in this game works poorly, and I blame it mainly on being able to sell items to vendors. Each city hub level in the game has two vendors, and certain missions have vendors of their own. So far so Deus Ex. Human Revolution adds a shop GUI to make trading a more pleasurable experience, which also allows the vendors to stock more items than Deus Ex could, since that was all handled through dialogue.
Being able to sell stuff was one of the most requested features in The Nameless Mod. Do you know why we refused to implement it? For the same reason they never let you sell items in Deus Ex: it encourages you to wade like a pack mule back and forth between some alley where you killed a bunch of enemies and the nearest vendor, selling all their items and weapons one by one. Sure, it doesn't force you to do so. Sure, you still get enough money in the long run that there's no need at all to do it. But when you find that praxis kit for 5000 credits, you better believe you're going to make your way back to that apartment where you left two shotguns and take them one at a time to the vendor two blocks down where they sell for 750 credits each.
I did this. And I hated myself for it. I felt like an idiot, I knew I was just being impatient and that I would make that money through normal means soon enough, but I just had to have that praxis kit. It was the worst parts of Diablo all over again, and this time you can't even pick up two shotguns at a time because they're simply merged in your inventory. So I wasted my time and turned Adam Jensen into a pack mule, and at the end of the game I had 26755 credits – more than I could ever possibly hope to spend.
Obviously this hilarious surplus of money wouldn't have been entirely fixed by not letting you sell things. You'd have prevented players like me from carrying out some severely boring commuting, but I still would've had far too much money at the end. The game needs some sort of money sink, something you can buy if you have loads of money, but the lack of which doesn't nerf you completely. For a while, the praxis kits looked like they might be it, but the 5000 credits that seemed so outrageous at the start was spare change half-way through the game. Deus Ex had this same problem, but Eidos fixed so many of Deus Ex's other weaknesses, I would have liked for them to fix this one too.
5. Too many praxis points
By the end of the game, I had fully upgraded every augmentation that I gave half a damn about and then some. I bought and maxed-out dermal armor basically because I had nothing to spend my points on that I really wanted. I bought the wall-hack augmentation just to see how it looked – used it once, nodded approvingly at the nice visual effects, then turned it off and never used it again. Taken in isolation, this is good and bad, but in the context of the franchise I think it's mostly bad.
Irrespective of Deus Ex's design philosophies, it's fine that you have points to spare. You still have to prioritise your upgrades since the first half or so of the game does change substantially depending on what augs you upgrade first, and knowing that you'll eventually be maxed out gives you some leeway to build a more all-round character right from the start instead of having to pick a specific play style and stick to it. Essentially this fits right into that fundamental design ethos I outlined when I was criticising the XP system, in that you can easily "multiclass" between stealth, hacking, and combat without being underpowered later on, which gives you freedom to switch to combat whenever you get tired of stealth.
On the other hand, it really limits the replayability of the later levels. ION Storm Austin put a fair amount of thought and effort into making sure Deus Ex would remain interesting on further playthroughs. Every aspect of the game contributed to this, from the semi-reactive narrative and the multipathed levels to the limited inventory and the skill system being tied into your item use. One of the most obvious aspects of this was how augmentations were set up to be mutually exclusive. The game had twice as many augmentations as you could install, and they typically came in matching sets of two. The result was obvious: to try out all the augs, you had to play at least twice.
To be fair, I was incredibly thorough. I mostly stuck to non-lethal takedowns to get the most XP, I explored every level fully, I hacked everything, and I got a fair few ghost and smooth operator bonuses. Less OCD players may not experience quite the same abundance of praxis points by the end of the game as I. To be even more fair, I didn't max out all the augs I wanted until about half-way through the game, so the first half of my second playthrough will be just as different as my second playthrough of Deus Ex. But my abilities in the second half of the game will never be much different from playthrough to playthrough. I'll upgrade my inventory fully so I can carry all the weapons I want, and there are no secondary upgrade system such as Deus Ex's skills to further differentiate character builds from each other. I've already seen nearly everything the game has to offer in terms of level and narrative, so the only motivation I have to play again is a scattered handful of narrative choices that may have interesting alternative outcomes if I choose differently next time.
It's not a huge problem, but it does feel like a small step in the wrong direction. When so many aspects of the original game have been improved, it feels particularly disappointing when the game falls short of its predecessor on such a comparatively major point.
In summary
It's important that you understand why I have so much to say about the things that annoyed me in Deus Ex 3. It's because I love this game, it comes so close to perfection and so close to its predecessor, which is deeply embedded in my personal identity. Any flaw I perceive in such a game will inevitably draw far more attention than a similar flaw in a worse game. Furthermore, my history with the franchise and my fairly deep understanding of and respect for the design paradigms that gave rise to it and the handful of games like it adds a philosophical layer to my experience of the game – I'm bothered by things that don't directly affect me, simply because they don't fit with the intentions behind the original game. Finally, the very fact that I've dedicated over 3000 words to discuss the things I didn't quite appreciate about the game should indicate how much I care, and though it won't necessarily communicate that I really really love the game, rest assured this entire post was born from powerful, undiluted enthusiasm.
To make it clear that I really did enjoy this game tremendously, I'll end with a short list of my favourite details in the game:
Laser grids shut down when your enemies walk near the lasers, to allow them passage. This also means you can disable the lasers by dragging the dead or unconscious bodies of your enemies with you through the lasers. EMERGENCE!
As if it's not enough of an emotional high point if you fail to save your pilot after you're shot down, you can find her dissected corpse at the Harvesters' later on, as they've been digging out her augmentations. It's an incredibly cruel gut punch, and it totally works.
One of the most powerful scenes in the game for me was showing up at Picus HQ in Montreal to find it completely empty. It's quite startling how unsettling and cinematic that whole scene felt simply because there was nobody there, and just like in the pod hotel in Hengsha, getting a chance to explore the level thoroughly before the enemies turned up made the following escape all the more fun.
The helipad storage room in Sarif is restocked between each of your visits.
Eidos Montreal has played around with the emails just as we did in TNM – you can track reply chains across different PCs and piece together little background stories if you read everything. As far as I can tell, even the TO and FROM fields are consistent, using names where there should be names, addresses where there should be addresses, and mailing list names where there should be mailing lists.