The Nameless Mod (TNM) is a total conversion for Deus Ex – but that may not do it justice.
It's a fiercely original action adventure with 2 parallel storylines offering an average of 15 hours of gameplay each with up to 25-30 hours for the exploratorily inclined player. It's set in a Snow Crash-esque cyberpunk virtual world – on a bulletin board dedicated to Deus Ex fandom.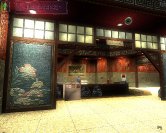 TNM is as meta as meta gets, unashamedly referencing itself, the game it's based on, a wide variety of other games, films, books, and music, and breaking the fourth wall on several occasions. It throws you one curve-ball after the other, happily throwing special-case programming and unique content at you for a single mission, never to be seen again. It gives you multiple ways to solve every problem, and it's not afraid to hide entire cutscenes in far-off corners of optional maps.
It took 7 years to make, it has over 195,000 words of dialogue with over 14 hours of voice-over, more than 50 maps, 20 new weapons, new textures, new sound effects, and many tweaks and improvements to the gameplay of the classic game it modifies. And it's all free.
I served many roles in the development of the game. I was originally brought on as a writer 11 days after the project started, but I quickly assumed the role of lead designer by virtue of having invented the setting and written the story. Along the way I contributed level design, gameplay scripting, world textures, interface art, and voice-over. I also wrote an estimated 90% of the dialogue and a good 75% of the in-game text (emails, books, newspapers, etc).
I've chronicled much of my work on TNM on this blog, but far from all of it. You can find my TNM posts neatly tugged away in this category.
Of course, all this sounds really great, but I'm hardly impartial. Thankfully, you don't have to take my word for it, because many games journalists took such a fancy to TNM that they decided to cover it extensively. Here are some highlights from that coverage:
More specific information about the story, features, and nature of TNM can be found on our About TNM page.
The screenshots on this page were taken with three graphical enhancement mods called HDTP Release 1, New Vision beta, and ENBSeries beta. More (spoilery) screenshots and a set of links to each of these mods can be found in the post titled TNM High Quality.